Made It, Ma! Top of the World!
Little Joe Stalin, boy of steel:
Josef Stalin, the monstrous Soviet dictator responsible for the deaths of millions, was a "sensitive child" with a love of flowers, his mother's memoirs have revealed.

Stalin was born in Georgia in 1878, the only child of a cobbler, Beso Djugashvili and his wife, Keke. In her memoirs, released from a secret Soviet archive, she detailed how a series of illnesses and accidents left "Soso"—her nickname for Josef—partially crippled, and how he coped with a violent alcoholic father.

"My Soso was a very sensitive child," said Keke. "As soon as he heard the sound of his father singing balaam-balaam from the street, he'd immediately run to me asking if he could go to our neighbours' until his father fell asleep."

Keke recounted how she used her child's love of flowers to encourage him to walk. Holding out a camomile, she would entice him to move towards her.

She also wrote about her son's struggle to win a scholarship to the seminary of the Georgian capital, Tiflis, now Tbilisi, to become a student priest.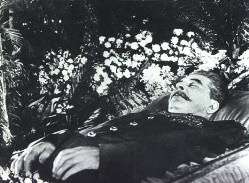 To read some of young Soso's poetry, go here.
To see some of young Hitler's paintings, go here.
I wanted to wrap this up with a link to the classic Saturday Night Live sketch "Attila the Hun: The Early Years," but I can't find any traces of it online. Anybody out there have a line on a copy?