It Usually Begins with Sammy Hagar*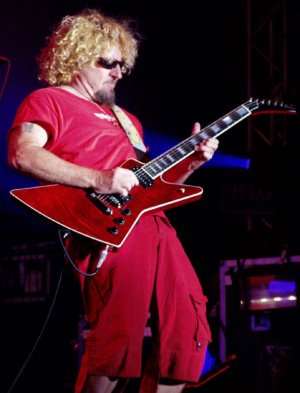 In Sunday's LA Times–the obscure West Coast daily that is fast becoming a dumping ground for Reason mag cast-offs–former Van Halen frontman, tequila pusher, Rock and Roll Hall of Fame inductee, and compulsive, red-suit wearing recidivist speeder Sammy Hagar joins the Rand-o-Rama when asked what his "bedstand reading" is: "Anything by Ayn Rand."
Throughouth the short Q&A, Hagar offers up other pearls of wisdom:
CULTURAL ADDICTION

"I love the Food Network. I'm happiest in a kitchen. When I'm home from touring I don't want to eat out, I want to cook and try out new things. Gourmet food and fine wines…. Emeril Lagasse is a good pal of mine and we did this charity auction where the bidder comes to my house in Cabo for dinner with us and Emeril cooks. The guy is a rock star."…

SECRET WEAPON FOR NAVIGATING THE CULTURE

"Did I mention margaritas? I think you need to take life like a day at the beach. You have to work hard but also sit back, listen to the ocean and look at the sun, feel everything and not take yourself too seriously. Does that answer the question? Probably not."
Back in 2005, on the occasion of Ayn Rand's 100th birthday, Reason compiled samplings from books, movies, and more that document "the long shelf life" of the author of The Fountainhead and Atlas Shrugged. That's online here.
The New Individualist, the magazine of The Objectivist Center, has compiled a long, entertaining, and exhaustive list of celebrity Rand fans here. And here's movie news that makes Rand fans tremble like Dominique watching Howard Roark work a jackhammer.
Not particularly obscure headline allusion here.