"There Is Nothing Remotely Like This Magazine"! Give a Gift Subscription To Reason This Season; Order by Dec. 2 To Ensure Xmas Delivery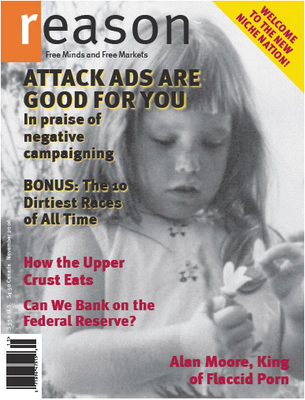 "There is nothing remotely like this magazine," says National Journal about Reason. And hey, media critic William Powers meant that in a good way, enthusing that Reason is "loaded with sharp content" and "even manages to make deregulation unboring."
So this holiday season, give the gift of Reason, the magazine of "Free Minds and Free Markets." And if you're a Reason Online enthusiast who has never subscribed to the award-winning print edition before, why don't you put yourself on your gift list? (Unlike Santa, we don't care if you've been naughty or nice. Or naughty and nice for that matter.) Print subscribers get their richly illustrated, lushly produced copies a full month before the content shows up on the website.
A year's gift subscription–11 issues–costs just $20 for the first gift and then a mere $17 for any extras. And as long as you place your order by December 2, we'll guarantee that the recipient receives his or her first issue by Christmas.
You must use this special URL in order to qualify for delivery by Christmas (sorry, no renewals allowed via this promotion). So order today–and give the gift of Reason.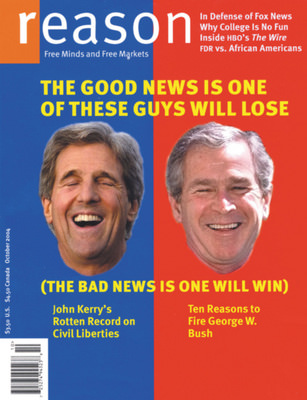 Bonus endorsements:
"Reason is a brilliant magazine, written and edited by brilliant people. And I am not saying that only because they agree with me"–Dave Barry
"A kick-ass, no-holds-barred political magazine," The New York Post
"Reason manages to offend leftists with its defense of biotechnology, free trade and school choice, even as it appalls conservatives by supporting gay marriage, open immigration and drug legalization."–The Columbus Dispatch
"Reason is less predictable and more interesting than any other political magazine I read"—Glenn Reynolds, Instapundit.com
"An oasis of sharp writing and sensible political discourse in a time dominated by I-know-you-are-but-what-am-I-manship, a respite for those who are weary of the reactionary pod-people screams emanating from both the left and the right."—Joe Garden, The Onion
"Reason is the undiscovered magazine of America. The magazine surprises with new perspectives and unexpected ideas. That's just what America needs today."—Jeff Jarvis, creator of Entertainment Weekly and proprietor of Buzzmachine.com
"A constant reminder of the value of independent thought in fast-changing times."—Chris Anderson, editor in chief, Wired
"In an era of smash-mouth, left vs. right political discourse, the libertarian Reason is a fresh and nuanced antidote"—The Chicago Tribune
"A political magazine of a different sort, Reason's refusal to carry water for either Democrats or Republicans is deeply refreshing in this era of partisan ugliness."—Folio