The Meth Epidemic Comes To Sesame Street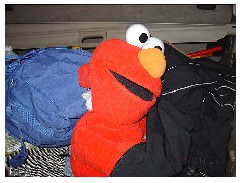 The Smoking Gun reports on how Sesame Street can now claim to the latest in the long line of places claiming to be the "meth capital of the world":
A Colorado drug operation hid large quantities of methamphetamine inside Elmo dolls, according to federal investigators who yesterday announced the indictment of 21 alleged members of the ring. During a year-long probe, Drug Enforcement Administration agents seized an Elmo doll…in Barstow, California that was stuffed with four pounds of methamphetamine. When investigators opened up the plush doll's skull, they discovered the drug stash inside wrapped in plastic (as seen in this evidence pic). While Elmo has never previously been linked to narcotics distribution or use, the Sesame Street character appears to have no teeth, which frequently is seen in heavy meth users.
More here.
Reason on meth madness in the press here and here.
And lest we forgot, Reason reported on how Sesame Street's Bert joined the Islamic Jihad and became a close associate of Osama bin Laden's here.