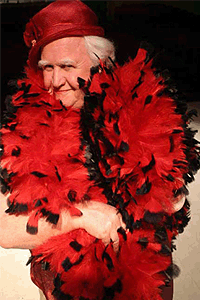 Eliot Spitzer's cakewalk to the New York governor's mansion may not be the most gripping political drama of our time, but it does offer comedy in the form of Malachy McCourt, the Ozzie Canseco to Angela's Ashes author Frank McCourt's Jose. McCourt is running for governor on the Green Party ticket, and in a profile of the candidate, The New York Times' Clyde Haberman makes much of the detail that he's the only candidate currently writing an introduction to a new edition of Dubliners. More to the point, he looks smashing in a boa, as you can see at right, in a still from his performance as Bella Cohen in some Bloomsday on Broadway production of yore.
Haberman picks up, but doesn't follow, an important thread of the McCourt candidacy, noting that Republican candidate John Faso, whose hope of beating Spitzer is no better than McCourt's, at least gets to debate him. "On that stage," Haberman writes, "you will not find Mr. McCourt or other candidates whose names may mystify you as much as some of Joyce's prose: John Clifton of the Libertarian Party, Maurice DeLuca of the Socialist Workers Party and Jimmy McMillan of the bluntly named Rent Is Too Damn High Party." It would be nice to see the Grey Lady and other major papers pay more attention to the incredibly shady dealings that keep third parties out of debates all over the country; hell, it would be nice just see them mention that third parties exist as anything other than comic relief.
At least in comic relief terms, McCourt, the last of the great stage Irishmen, delivers like Barry Fitzgerald teaming up with Bing Crosby for a remake of The Exorcist. His platform includes planks to drop the nickname "Empire State," turn the National Guard into a civilian environmental corps, and tax gum out of existence because it "makes people look stupid, and they spit it out." Ominously, some of his crazier plans (such as declaring sugar a controlled substance and making an individual cigarette the same price as a gallon of gas) sound like the kind of ideas that stand a real chance of becoming law under Spitzer himself. On the other hand, I just took a look at McCourt's filmography, and have found that in addition to appearing in such boatloads of blarney as The Field, The Devil's Own, and Ash Wednesday, McCourt has appeared in some pretty great movies: The Brink's Job, Larry Cohen's Q, and Reversal of Fortune (playing "Englishman"). That's a record of real achievement, so if I were in the State Formerly Known As Empire State, I think I'd have to support Malachy McCourt, for a real change:
"The inculcation of fear is the essence of American politics," Mr. McCourt said. "Fear and the evil of your opponents—what awful, dreadful, less-than-human beings they are, until elected. Then they say, 'We have to get behind them.'"

He recalled a quotation from Thomas Corwin, a 19th century senator from Ohio: "Never make people laugh. If you would succeed in life, you must be solemn, solemn as an ass. All great monuments are built over solemn asses."
If you have no moral issues about circumventing Times Select, here's the full article.