Reason on C-SPAN, Monday, 9:30AM-10:00AM ET (Veiled Subscription Pitch)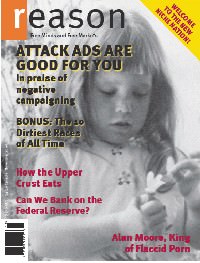 David Mark, author of the great cover story in the November issue of Reason, "Attack Ads Are Good For You: In Praise of Negative Campaigning," and of the excellent new book, Going Dirty, will appear on C-SPAN this Monday at 9:30AM to discuss his story. So check it out, why don't you?
The November issue is on newsstands now and is chock full of other great material too: Tim Cavanaugh's blistering review of Alan Moore's new porno comic book; Dave Weigel's profile of Rep. Butch Otter, the libertarian-leaning congressman who is about to become the next governor of Idaho; Jacob Sullum's review-essay on books dealing with the overwrought "obesity epidemic"; Katherine Mangu-Ward's dilation on "how the upper crust eats"; an excerpt from New York Post columnist and former Reason intern Ryan Sager's excellent new study of GOP politics, The Elephant in the Room: Libertarians, and the Battle to Control the Republican Party; and much, much more.
And while you're at it, if you're not a subscriber yet, why don't you become one? For less than $20 a year, you'll get 11 issues of Reason delivered right to your mailbox–and you'll get the material in the print edition a full month before it appears here at Reason Online.
It's easy to subscribe (or to renew your existing sub). For more info, just click here. And if you're interested in getting the electronic edition of Reason delivered directly into your inbox, then go here.