As Ronald Reagan asked, "Where's the rest of me?" Space shuttle Atlantis, the Shemp Howard of partially reusable orbiters, won't be landing today, after crew members spotted an unidentified floating object that may be a piece of the ship. The cautious birds at NASA are checking out the mystery to see if there's any problem with landing. In jargonese:
[Shuttle program manager N. Wayne Hale Jr.] said the object was first spotted early Tuesday by a camera in the Atlantis cargo bay. Low-resolution images and a lack of data about it prevent engineers from determining the object's size, mass or exact shape, he said, making it hard to tell whether the item is critical to the shuttle or a sign of a threat. The pictures indicate a very small black object orbiting near the shuttle, Mr. Hale said.

"It could be a little something up close or a bigger something a little further away," he said. "It's a bit of a mystery."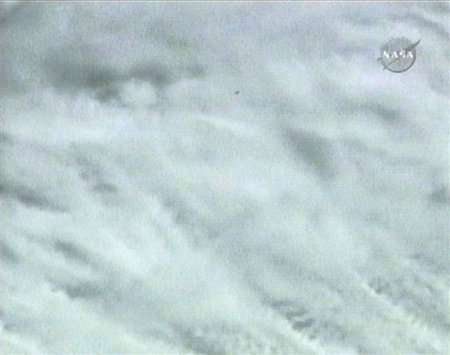 Hey that's Ray Walston! Unfortunately, this blue-yellow-level alert comes in the middle of a pretty good space week, as Atlantis successfully delivered some large materials to the stinky International Space Station, space tourist Anousheh Ansari made it to the ISS on a Soyuz capsule, and all three vehicles were simultaneously in orbit long enough for a bunch of crappy "crowded up here" jokes. Then again, you can't count out a conspiracy theory wherein NASA cooks up a fake emergency to make the return seem more heroic. But I've got a history of jinxing shuttle missions, and going into space is really fucking dangerous, so good luck to them.