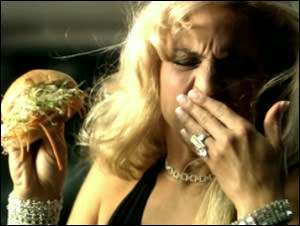 Sure, Paris Hilton clad in a damp bikini can sell a burger. But hell, a burger with fried jalepenos and onion rings could sell itself to a practicing Hindu. The real question: Can a fairly decent Paris Hilton look-alike sell a Vegan Wheat Germ Tofu Granola Sprout Burger?
Larry the Lizard, the ostensible impresario of this awfully professional-looking YouTube masterpiece, says "when people tell me what I can or can't eat, I get mad." Especially "when these holier-than-thou nutrition nuts convince the government to do their dirty work. Maybe it's just me, but I think the food fascists have gotten too much press and way too much power."
Via the Center for Consumer Freedom.