Ron Bailey's Got Live If You Want It!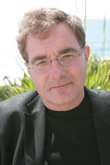 Reason Science Correspondent Ronald Bailey will be on PBS' Newshour tonight, discussing global warming. For local station info, go here. For Ron's column on Al Gore's "An Inconvenient Truth," go here. And for his column on why "we're all global warmers now," go here.
Buy Ron's great book, Liberation Biology, here.
And while you're at it, why don't you just subscribe to Reason already?
Update: Transcript and audio online here.