Heads-Up Action: Poker Players vs. GOP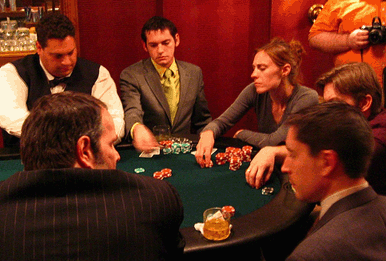 I like poker. I like booze. And I especially like free booze that accompanies poker. So after a few preparatory drinks to celebrate Kerry Howley's richly-deserved Felix Morley Prize, we ambled over to the University Club to meet Gillespie and an assortment of our favorite bloggers and pundits at a tony shindig hosted by the Poker Players' Alliance, staring poker rockstars Chris "Jesus" Ferguson and Howard Lederer. The event was part of PPA's push to drum up opposition to three seriously wrongheaded laws being pushed by Republican legislators that would attempt to prevent Americans from gambling on overseas poker Web sites.
Much as I appreciate being able to order Talisker all evening without weeping as I crack my wallet, the proposed legislation is stupid enough that I'd be happy to oppose it even without the free liquor. First of all, it's unlikely to work. The provisions that order Internet Service Providers to try to police their users connections will create significant hassles for the ISPs, but they seem unlikely to work. As Kerry has observed, even honest-to-God authoritarian regimes like China's can't seem to keep their citizens away from the Web sites they want to visit. Between the $12 billion online poker industry and its millions of happy customers, love (and money) will find a way. And as Radley Balko argues, the attempt to control the payment services through which poker winnings flow will not only require huge intrusions on financial privacy, it'll simply push them overseas. If, as legislators say, they're worried about these overseas sites being used for money laundering or to fund terrorist groups, Radley points out there's an easy solution: Just legalize online gambling in the U.S., so the sites can set up shop here, where they'll be subject to more effective regulation geared to prevent those things. Of course, the real point of legislation like this is probably to protect state lotteries, legal bricks-and-mortar casinos, and other forms of favored, exempt betting from competition. Let's take a look at the biggest contributors to the bans' sponsors, shall we? There's Virginia's Rep. Bob Goodlatte: The National Thoroughbred Racing Association is one of his second-biggest funders. And, as chance would have it, online bets on horce racing are exempt from the bills. How about Arizona Sen. John Kyl? His number four contributor last cycle, who went all-in for $22,500, was the Phoenix-based Viad Corp., which is the parent company of GES exposition services, a Las Vegas firm that puts on trade shows and conferences, many of them at, yep, Vegas casinos. (Viad also used to own a company called "Game Financial Services" that provided check-cashing and cash-advance services for casinos.) I don't see anything similar for Iowa's Jim Leach, so maybe he's just a sincere puritan.
Politics aside, incidentally, the event was a blast. Thanks to ESPN, Lederer and Ferguson really are minor celebrities… and in the right crowd, major ones. The ex–Taj Mahal dealer hired for the evening (who mostly managed to hide his annoyance at having to repeatedly remind a bunch of loose-playing journos and bloggers of rules like "raise by what's bet into you") went wide-eyed when "Jesus" Ferguson strolled by, and asked whether he might please deal the champ a few cards in a voice normally reserved for middle schoolers meeting pro athletes. Also, the University Club is the kind of environment in which poker ought to be played: oak paneling, felt tables, and oversized leather chairs. It'll be rough going back to the rear patio.