But Do They Wear Little Latex Gloves?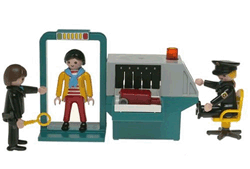 Is it just me or is this Lego security checkpoint a little odd? How do kids play with it? Do they make a little Middle-Eastern Lego guy for them to profile? Do they get in trouble with the American Civil Legos Union when they do?
Whoops: Sorry, it's Playmobil, not Lego. There goes my lucrative product placement deal.