Artifact: Fluid Structure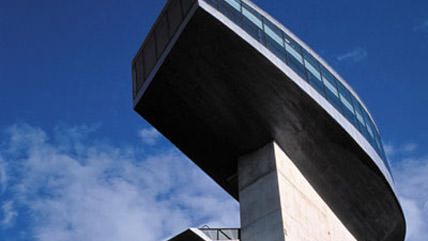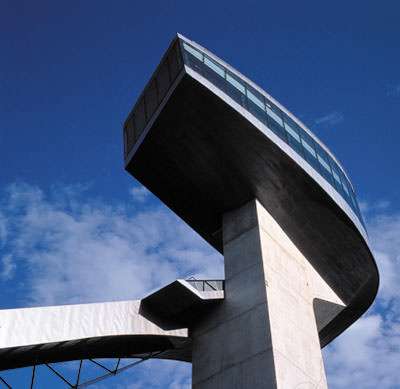 This dramatic ski jump in Innsbruck, Austria, described by The New York Times as "a swoosh in steel," is the work of Zaha Hadid, the winner of this year's Pritzker Architecture Prize. The structure's energy is typical of Hadid's designs, which are often marked by unusual rhythms and movement. Her design for a winding Naples train station that arches the tracks, for example, seems as much in motion as the trains it will serve.
Such "motion" has become a mark of Hadid's work. Although she has spent her career in London, she is an Iraqi exile, and at least one paradox-minded critic has sought the source of her forward-looking dynamism in the timeless rhythms of the Middle East. Herbert Muschamp, a long-time admirer of Hadid, has suggested that her "emphasis on movement derives from the nomadic traditions of her native Iraq."
Accurate or not, the thought's worth pondering. Much dramatic contemporary design -- like the "blob" buildings of Frank Gehry -- has its practical origins in the matrix of imagination and computing. Conceiving Hadid's fluidity as a legacy of nomadic tradition not only humanizes a digitized architecture that may otherwise seem alien, it recasts ancient and seemingly static tradition as a source of dynamic change.