The FX Files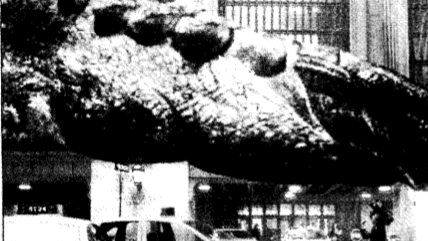 Summer is the cruelest time: Aliens invade, monsters stalk, comets crash, the world ends with one bang after another. Such are the hard-to-resist themes of hot-weather movies, whose computer-generated effects are more eye-popping each year. This season's digitized spectacles include mammoth tidal waves, toy warfare, and a 20-story version of Godzilla, seen at left on a summer stroll.
Who's most frightened by such films? Turns out it's the finger-wagging critical elite, which is left trembling by them. At season's start, The New York Times gathered expert opinion about how dangerous digital special effects really are. They're anti-human, the experts charged: numbing, pummeling, mind-colonizing acts of "technological pornography."
Are they? This censorious expert class, ever with us, gags on cultural pleasure. Over the years it's condemned theater, the novel, the waltz, jazz, the tango, movies, comics, rock, etc. Now, Godzilla. In fact, movie effects masters stand in a long line of magicians and wonder workers. Their films are a modern circus coming to town each summer, complete with sideshow and derring-do. Complete, as well, with a town parson sternly disapproving, and wishing bleakly for winter.