God Rest Ye Merry Taxpayers
The end-of-year holidays are marked by gift giving and the settling of accounts. In keeping with the season, the map below indicates the total federal funds allocated to each state on a per-capita basis in fiscal year 1992 (the most recent year for which data are available). However, the federal government is less like Santa Claus and more like a child who borrows money from his parents to buy them their gifts—federal money is, after all, taxes collected from past, present, and future citizens. According to the Office of Management and Budget, total federal receipts for FY 1992 were $1.1 trillion, while total outlays were $1.4 trillion, resulting in a $300-billion debt.
Federal allocations to states include grants to state and local governments, salaries and wages paid to federal employees, direct payments to individuals (such as retirement, survivor's, or disability insurance compensation), and payments for government procurement contracts. The average per-capita amount paid to residents in 1992 was $4,599.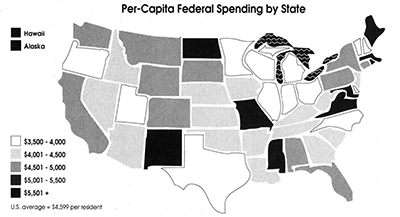 This article originally appeared in print under the headline "God Rest Ye Merry Taxpayers".