The Homeless Issue: An Adman's Dream
A little empathy and a lot of PR go a long way in Washington.
If we fight for the homeless, we of course will demand affordable housing for all Americans. If we fight for the homeless, we of course will reject economic and monetary policies that create and promote joblessness.…The homeless are indeed the most egregious symbol of a cruel economy, an unresponsive government, a festering value system.
—Robert Hayes, National Coalition for the Homeless
The problem of homelessness in America is far more than the problem of housing the desperate and the helpless. It is the front line of the endless battle over the size and nature of the welfare state.
The "Reagan Revolution" has not repealed the New Deal or the Great Society. The welfare programs of the last half-century still exist, bigger and fatter than when President Reagan took office—pervasive rhetoric to the contrary. But the bureaucratic baronies created by Franklin Roosevelt and Lyndon Johnson have been shown by Charles Murray and others to be an intellectual and moral disgrace, indefensible by socialists and surviving only through congressional inertia.
Homelessness is the issue by which the champions of the welfare state hope to regain lost ground. Bills pending in Congress will, if passed, use the homeless issue to increase federal welfare spending by up to $4 billion—the largest one-year increase since the Carter administration.
Yet advocates of massive federal spending for the homeless have failed to show the need for increases. Nor have they demonstrated whether spending more tax dollars on public housing—a favorite plea—will reduce the homeless population. If the Reagan administration had not tried to counter the sloppy estimates of the homeless lobby with equally bad estimates of its own, one wonders whether the question of homelessness would have ever become a "crisis" to be solved by bloating the welfare state.
Ten years ago there were homeless in America. Twenty years ago there were homeless. How is it that in the 1980s there is a homeless crisis? A close look at what statistics there are reveals that nobody really knows how much—or even whether—the number of homeless is increasing (more on this later). A little more looking, and it becomes clear that homelessness has become an issue in American life largely because of the efforts of two charismatic lobbyists—a Washington adman and a New York City lawyer.
In late 1978, Robert Hayes, an associate at the Wall Street firm of Sullivan and Cromwell, was walking to the subway when he noticed "bums…begging for handouts." He began to talk to the homeless and visit shelters. Appalled by what he found, he resolved to do something. Being a lawyer, he resolved to file a class-action lawsuit. He got Robert Callahan, a former short order cook he'd met in the Bowery, to agree to be the plaintiff. In October 1979, Hayes sued New York Mayor Edward Koch and New York Governor Hugh Carey to compel the city and state government to provide shelter for the homeless.
In December 1979, New York's supreme court granted a preliminary injunction in Callahan v. Carey in favor of Callahan—and Hayes. New York City residents now had a "right to shelter"; the court ordered New York City to provide food, shelter, and showers to any resident. Shelters also had to be large enough so that no homeless person has to be bused from one shelter to another.
Callahan v. Carey has been a costly decision for New York City's taxpayers. In 1978, the city budgeted $6.8 million for the homeless; by 1983, the figure had risen to $38 million. (While the numbers of people using the shelters rose from about 600 in 1978 to 4,235 in 1983, whether the rise was due to an increase in homelessness or whether people left temporary housing for free beds and food is a question intensely debated by sociologists.)
Hayes spent two years arguing with New York City's lawyers over the precise details of implementing the Callahan decision. He also began his courtship of the media; demonstrations at the 1980 Democratic National Convention won him an interview on NBC's "Today" show.
"When people called the show and asked where they could send contributions," Hayes later told Esquire, "we had to have an organization, so we formed the coalition." By 1981 Hayes's group, the Coalition for the Homeless, was ready to go nationwide. Soon it was the National Coalition for the Homeless.
While Hayes was fencing with New York City lawyers, Mitch Snyder was beginning to acquire his notoriety. Snyder was an adman who, in the early 1970s, founded the Community for Creative Non-Violence (CCNV), a Washington, D.C., commune dedicated to opposing the Vietnam war. Snyder widened his range in the late '70s, engaging in a series of hunger strikes and demonstrations (usually "tent cities") in Lafayette Park, across the street from the White House. While some of these strikes were antiwar, an increasing number were devoted to the homeless.
Snyder began to acquire a local reputation as an expert on homelessness. If he had lived in Los Angeles or Philadelphia, the state legislature would have asked to hear him; but because he lived in Washington, Snyder was asked to testify before the D.C. equivalent of a statehouse—the House District Committee. The congressional committee asked Snyder and his associates at CCNV to compile an estimate of the number of homeless people in the United States.
In December 1980, Snyder delivered his report. There were, he declared, 2.2 million homeless Americans—or one percent of the population. Snyder then attacked the congressmen who asked for the report. "We have tried to satisfy your gnawing curiosity for a number," he said, carping about "Americans with little Western minds that have to quantify everything in sight."
Two years later, with homelessness increasingly in the news, the Community for Creative Non-Violence published Homelessness in America, a revised version of Snyder's 1980 testimony. "We have learned nothing that would cause us to lower our original estimate," wrote Snyder and coauthor Mary Ellen Hombs. "In fact, we would increase it, since we are convinced that the number of homeless people in the United States could reach 3 million or more during 1983."
These two sentences are the strongest "evidence" ever provided by the Community for Creative Non-Violence on the size of the homeless population. Snyder and Hombs chose to prove their claim, not by providing evidence but by listing dozens of horror stories about individual homeless people. (It's a favorite technique of advocacy groups both outside and inside the government. Ralph Nader and his organizations have perfected it to a high art, and the Attorney General's Commission on Pornography proved itself no slouch at using much the same methods several years ago in "proving" that pornography causes crime.)
Beyond anecdotes, Snyder and Hombs's extraordinary claim of two to three million homeless Americans rests on "information" received from sources—usually homeless activists—in 25 cities and states. Their estimate "lacks absolute statistical certainty," they concede. And as we shall see later, estimates gleaned from activist sources also lack credibility and intellectually respectable defenders.
Snyder and Hayes proved irresistible to the media—Snyder the roughhewn survivor of the '60s, Hayes the smooth establishment operative. Their activities filled the pages of newspapers and magazines and provided the visual effects for TV reports. "Whenever I pick up a newspaper or listen to the news," New York Mayor Koch said in January 1983, "I find stories about one of our most pressing problems—that of the homeless."
Most of the major newspapers in America had a story about national homelessness in 1982 or 1983, and most of these stories had one point in common—they all reported Mitch Snyder's estimate of two million homeless (which Robert Hayes also adopted) as a hard fact:
• "1982's Homeless: Americans Adrift in Tents, Autos," Washington Post, front page, August 14, 1982: "'From coast to coast, signs of the 1930s reverberate,' says Robert M. Hayes,…attorney for the National Coalition for the Homeless, which estimates at least two million people are without shelter in the United States. He notes, the soup lines grow. The flophouses fill to overflowing.…The newest token of a failed American dream is a cardboard box.'"
•"Millions Hit Bottom in the Streets," Los Angeles Times, front page, December 26, 1982: "According to testimony two weeks ago at a congressional subcommittee hearing on the subject, there may be as many as 2.5 million citizens without a place to stay for the holidays." The unnamed provider of testimony was Mitch Snyder.
• "Warm Season Masks but Doesn't End Problem of the Homeless," New York Times, June 3, 1983: "The National Coalition for the Homeless, a new organization started in response to a rising problem [emphasis added], estimates that there are two million of these homeless Americans, the victims of unemployment, sharp declines in low-cost housing, and, often, of homelessness." (A little fact-checking and editing could have saved this article from the misleading claim that first there was "a rising problem" and then there was the NCH, and the inane comment that the homeless are "victims of…homelessness.")
It was up to Newsweek reporter Jonathan Alter to provide the most florid statement of what by now was everywhere dubbed a crisis. "The tattered ranks of America's homeless are swelling," Alter wrote in a January 2, 1984, cover story, "and the economic recovery that made this Christmas merrier than last for most Americans has not brought them even a lump of coal."
By 1984, said Village Voice reporter Joe Conason, homelessness stories all suggested "the same question: If there are two million homeless, why isn't the government doing more to help them?"
Needless to say, the government was not sitting around letting social activists monopolize the limelight. In 1983, Secretary of Housing and Urban Development Samuel Pierce ordered his Office of Policy Development and Research to produce an estimate of the size and nature of the homeless population. A Report to the Secretary on the Homeless and Emergency Shelters was released in May 1984—to howls of outrage from Snyder, Hayes, and the homeless lobby. It was, scoffed Snyder, "a political document."
The HUD report presented four estimates of the homeless population, ranging from 192,000 to 586,000. The authors concluded that "as best as can be determined from all available data, the most reliable range is 250,000 to 350,000 homeless persons. This represents the total number of people, nationally, who were homeless on an average night in December 1983 or January 1984." It was a meager 10 percent of the 2–3 million figure popularized by Snyder and Hayes.
HUD had tried four ways to come up with some homeless estimates. The highest figure of 586,000 was determined by collecting local newspaper stories, magazine articles, and a few reports by state and local welfare agencies, dividing the total into the population of those areas, and so deriving a national estimate that .25 percent of the population was homeless. HUD's analysts did not question their source material and relied on news reports written as much as two years before the December 1983 "snapshot" date. For example, estimates for Minneapolis and Philadelphia were derived from 1981 newspaper articles, while Tucson and Pittsburgh figures were taken from 1982 newspaper stories.
HUD's other estimates deserve closer attention. Consider the number derived from the opinions of operators of shelters for the homeless.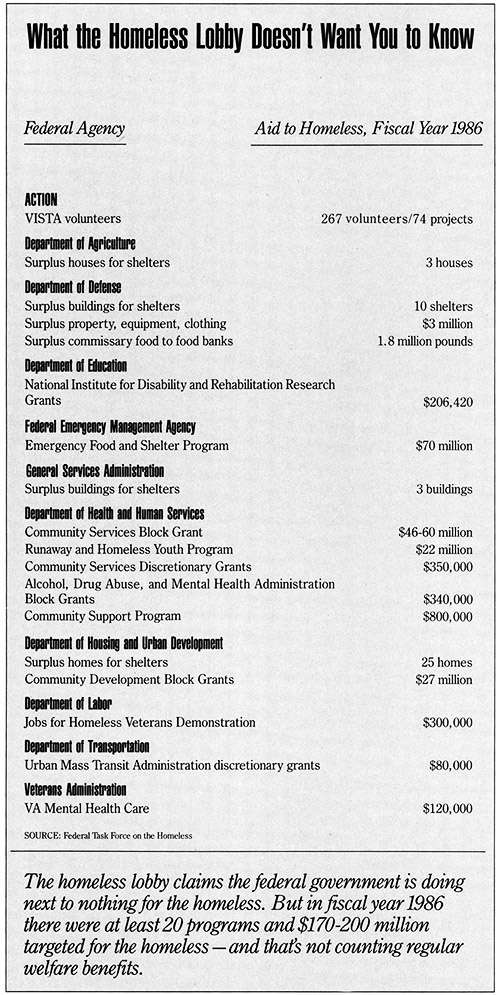 Shelter operators are not as knowledgeable about the numbers of homeless in their area as one might expect. As Eugene Ericksen, a professor of sociology at Temple University, told a congressional committee in December 1985, "the shelter operators and other providers are so busy running their facilities and taking care of the local clientele that they have little time or motivation to learn about the problem as a whole. Knowing how many homeless people there are in the New York area will not help you run your shelter in the Bowery when your beds are full every night and you have to turn people away."
Ericksen, at the request of Mitch Snyder, used the Freedom of Information Act to obtain the worksheets used by HUD survey researchers. He found that half of the people HUD tried to interview gave an estimate reluctantly; a third refused to provide an estimate at all.
The estimates HUD did receive varied widely. In New York, for example, estimates ranged from 12,000 to 50,000 homeless people; in Los Angeles, from 19,500 to 39,000.
"Some of these responses may have been wild guesses," Ericksen testified. "In other cases, respondents may have given the number of public shelter beds; estimates may also have been given of the number of persons staying in shelters, missions, or hotels and apartments vouchered for the homeless."
In many cases, HUD's "experts" relied on the same primary sources. In Chicago, four of the five sources HUD solicited based their guesses on a 1983 report by Chicago's Department of Human Services. (The fifth estimate was deemed "very soft" by a HUD survey researcher.) In Boston, five of the eight sources used by HUD based their estimates on a single source, a report by Boston's Emergency Shelter Commission.
In short, what HUD did was not to count the number of homeless people or to rely on counts compiled by others. It simply collected opinions. Some of the opinions may be better than others, but as Richard Applebaum, a professor of sociology at the University of California at Santa Barbara, points out, most of HUD's research was "subjective opinion.…I don't think it matters if it is a shelter operator or a member of the Coalition on the Homeless, it is just a guess. It may be a somewhat more informed guess than my guess, but it is still a guess because of the monumental problem [in counting the homeless]."
The homeless lobby obviously didn't care for HUD's huge deflation of their own numbers. But two recent studies suggest that HUD's estimates were too high. Peter Rossi, director of the Social and Demographic Research Institute at the University of Massachusetts at Amherst, conducted a study for the National Opinion Research Center to determine the number of homeless people in Chicago. Rossi and his researchers counted homeless people on 245 blocks in downtown Chicago (including "super blocks" such as train, bus, and subway stations that have a large number of homeless people). They concluded that there were between 2.000 and 3,000 homeless on the nights surveyed (in September/October 1985 and February/March 1986). Rossi estimated that people were without homes at some point during the year. HUD, by contrast, estimates Chicago's homeless at 12,000–25,000—three times Rossi's figures.
In a subsequent article in Science, Rossi and his researchers reveal that they have "never been able to locate any data from which [HUD's] numbers were derived." They note that "empirically credible attempts to estimate the size of the homeless population have produced numbers well below the expectations of the advocacy community."
In Los Angeles, the survey research firm of Hamilton, Rabinovitz, and Alschuler recently conducted a survey for Los Angeles's Community Redevelopment Agency on the skid-row section of central Los Angeles, the area where most of Los Angeles's homeless stay. Using sampling techniques similar to Rossi's, the researchers determined that between 1,650 and 2,285 homeless people stayed on skid row each night and that between 3,390 and 4,260 people spent at least one night each year in the area.
Yet, demonstrating the problem with HUD's reliance on local social-service agencies, soup kitchen operators surveyed by the researchers gave estimates of between 10,000 and 200,000 homeless people in the skid-row area. According to the 1980 Census, the entire population of the skid-row district was 10,127.
Martha Hicks, president of the Skid Row Development Corp., a nonprofit community agency, discounts HUD's estimate that there are up to 50,000 homeless people in Los Angeles. "They'd be falling all over each other if we had that many people here," Hicks told the Washington Post recently. "I think there are some people who think there is some money to be made from homelessness."
In September 1986, the National Coalition for the Homeless responded to HUD's report with National Neglect/National Shame, a survey designed to show that "more men, women, and children are homeless than at any time since the Great Depression." The NCH surveyed 21 cities in a manner similar to HUD's, with one important difference. While HUD tried to obtain estimates from a variety of sources, the NCH relied on one or at the most two sources for a city, usually either a shelter operator or a local homeless lobby.
When questioned about the survey, NCH Washington director Maria Foscarinis, who wrote the report, refused to comment on any biases her sources might have. She insisted that such sources as the Massachusetts Coalition for the Homeless, the West Virginia Coalition for the Homeless, and the Seattle Emergency Housing Coalition can provide "the most reliable estimates" because they are "front-line people."
The total number of homeless counted by NCH (assuming reliable sources) ranged from a low estimate of 177,125 to a high estimate of 235,320 people. That's for 21 cities. The NCH extrapolated from these "front-line" estimates to endorse Mitch Snyder's famous figures: Foscarinis claims that there are between two and three million homeless people in the United States. Her claim is backed, she admitted in the interview, by "nothing that I can think of."
Few people outside the homeless lobby, however, now support Snyder's number claims. In an interview, Snyder said that he still believes there are between two and three million homeless in the United States but noted that his numbers are not "scientifically precise."
But "they're not just my numbers," he said in defense. "Check with the American Psychological Association, the U.S. Conference of Mayors, and the National Coalition for the Homeless. They'll back me." Spokesmen for the U.S. Conference of Mayors and the American Psychological Association denied that they had either supported Snyder's statistics or issued comparable estimates. And of course, the National Coalition gets its numbers…from Snyder.
Even the sociologists asked by Snyder to attack HUD's report—Richard Applebaum and Eugene Ericksen—told me that they do not support Snyder's estimates. "We really don't know how many homeless people there are, " Ericksen concedes.
Both Ericksen and Applebaum believe that the homeless population is increasing, but they use metaphors—not research—to back up their claims. "Even without a thermometer, you can tell that the temperature is going up or down," says Ericksen. And Applebaum admits that his "best source" for the rise-in-homelessness claim is "people in the homeless community, who have an axe to grind."
Suppose, though, that Snyder is right and has always been right. That would mean that there were between two and three million homeless people in 1982, when he first put out a number—and between two and three million homeless people in 1987. If Snyder is infallible, there has not been an increase in the homeless population for five years. Why, then, should the flow of tax dollars to the homeless be stepped up?
Homeless lobbyists hope to increase government aid to the homeless in two ways—one direct, one indirect. The indirect method is to have cities pass right-to-shelter laws similar to the regulations New York City has prepared to comply with Callahan v. Carey. Although none is as strict as New York's, right-to-shelter laws have been passed in Washington, D.C., St. Louis, Philadelphia, and elsewhere.
In addition, the National Coalition for the Homeless and the Vietnam Veterans of America are suing the Veterans Administration to require VA workers to regularly visit shelters to teach homeless veterans how to apply for tax-funded health care, nursing homes, job placement, psychological counseling, and tuition subsidies.
While the homeless lobby is fighting in the courts, their greatest victories have been in Congress. Last year, Sen. Pete Domenici (R–N.M.) and Sen. Robert Dole (R–Kans.) led the effort to pass a bill giving welfare benefits to anyone who qualifies, regardless of whether the person has a home. John Weicher, the American Enterprise Institute's welfare specialist, sees this law as a way of determining the size of the homeless population. "If a large number of homeless people apply for welfare, then there will be some solid evidence that the homeless population is growing," Weicher says. "But I don't think this bill will swell the welfare rolls."
Homeless lobbyists have placed their efforts behind two bills, the Urgent Relief for the Homeless Act, a $500-million bill, and the Homeless Person's Survival Act, a $4-billion effort. Congressional staffers I talked to don't think there's much chance the more expensive measure will become law. It has already been split into nine smaller bills. Because they will be taken up by nine different House subcommittees, activists hope to multiply the hearings (and the media coverage) given homelessness. "We want bills to sprout here, there, and everywhere," says Penny Johnson, a staff member of the House Committee on Hunger.
The Urgent Relief for the Homeless Act, which provides $500 million in homeless aid, has already passed the House thanks to support by both House Speaker Jim Wright (D–Tex.), House Majority Leader Thomas Foley (D–Wash.), and 111 cosponsors. The bill, which also passed the Senate (with minor changes and slightly lower funding) on April 9, would, in Wright's words, "not [be] very much…$2 per capita for our citizenry. I just don't believe that the American people would turn their backs upon the needs of their fellow Americans for a clean and warm and safe place to spend the night for $2." (At press time, the measure had not been signed into law.)
The House version of the bill would create or feed a passel of bureaucracies:
• $70 million to the Federal Emergency Management Agency's Emergency Food and Shelter Program;
• $100 million to HUD to renovate shelters;
• $30 million to HUD for group homes, mental-health programs, and job training for homeless people;
• $100 million for subsidized "Section 8" public housing;
• $50 million to the Department of Health and Human Services (HHS) for new healthcare programs;
• $50 million to HHS for expanding existing health-care centers;
• $100 million in additional funds to convert surplus government buildings into shelters.
Plus, there's plenty of pork for the homeless lobby. For the first time, homeless lobbyists can feast on your taxes. The $500 million can be spent on groups "who advocate, on behalf of homeless individuals, policies which would ensure that health care resources are made available from public and private sources to meet the health and mental health needs of such individuals."
While there is no evidence that federal funds have, up until now, been used by homeless advocates for lobbying, it wouldn't take very much federal cash for the homeless lobby to wallow in luxury. The entire budget for the National Coalition for the Homeless in 1987, for New York and Washington offices, is only $308,500.
None of NCH's budget goes to provide shelters for the homeless—its raison d'être, one would think. By contrast, Mitch Snyder's Community for Creative NonViolence spent "about 98 percent" of its 1986 budget of $250,000 on its homeless projects—two shelters, an infirmary, and a soup kitchen—according to the group's Mary Ellen Hombs. She estimates that the two shelters house "about 1,000 a day." Hombs says that 95 percent of their budget comes from individual donors, with the remainder donated by churches and philanthropic foundations. In addition, their main shelter was renovated last year with a $6.5-million federal grant.
The seemingly unstoppable Urgent Relief for the Homeless bill makes two assumptions that remain unproven. In arguing for additional money for public housing, the bill's authors assume, in the words of New York Governor Mario Cuomo, that people are "homeless…because of the nationwide shortage of affordable housing." And unless more public housing is built, as Common Cause magazine warns, "the homeless problem could get much, much worse."
In fact, public-housing funds have not been cut during the Reagan administration. While the "authority"—the amount an agency is allowed to spend—has been reduced, the "outlays"—the actual amount spent—on public housing has risen steadily. In fiscal year 1981 (Jimmy Carter's last budget), the federal government spent $5.7 billion on 3.1 million families. Five years later, the federal government spent $9.5 billion on public housing for 4.1 million families. Why should tax dollars be "restored" to a program that not only hasn't been cut but has ballooned by two-thirds?
Moreover, if homelessness was somehow related to the supply of housing, more people would become homeless as housing vacancy rates decreased. Thomas Main, a Harvard graduate student studying homelessness for the Twentieth Century Fund, studied vacancy rates in New York City. Between 1978 and 1984, that city's vacancy rate dropped from 2.95 percent to 2.04 percent while the number of people in shelters increased 148 percent. Yet between 1965 and 1970 the vacancy rate in New York dropped from 3.19 percent to 1.5 percent while the number of people staying in shelters remained constant. "If a housing crisis is what causes people to be without homes," Main says, "then why didn't we have a homeless-family crisis of the size we do now back in 1971?"
Politicians and homeless advocates, in trying to "solve" the problem of homelessness by the well-worn method of throwing money at it, underestimate the amount of federal aid already flowing to the homeless. For example, a "fact sheet" put out by the House Select Committee on Hunger claims that only five federal programs serve the homeless.
In fact, as a modest amount of poking around Washington reveals, there are at least 20 federal programs for the homeless, ranging from conversion of surplus buildings to Urban Mass Transit Administration research grants (yes, UMTA is in on the action to figure out how homeless people can use public transportation).
The total amount targeted for homelessness in fiscal year 1986 was between $170 and $200 million. At least $60 million—and as much as $560 million—will be added to this total in fiscal year 1987. And that's just for programs within agencies designated specifically for homeless people; this doesn't count welfare benefits such as food stamps or veterans' benefits for the 25 percent of the homeless population who have served in the armed forces. The table on page 26 lists federal funds allocated for the homeless in 1986; calculating all federal benefits for homeless people is impossible, since most social welfare programs do not earmark money specifically for the homeless even when that's how it's spent.
Most federal aid to the homeless goes to two programs—the Emergency Shelters Program, run by the Department of Health and Human Services, and the Emergency Food and Shelter Program of the Federal Emergency Management Agency.
The Emergency Shelters Program is part of the Community Services Block Grant, the remnant of the now-defunct Community Services Administration. The $46–60 million spent on the program, says Linda Hill, a grant specialist in the program, reimburses state programs rather than providing direct federal funding. Grants are "audited selectively," Hill says.
In New York City, $36 million of federal Emergency Shelter money reimburses the city of New York for running welfare hotels. Last spring, the Village Voice charged that eight real-estate speculators own up to one-quarter of the welfare hotels in that city. Because the city of New York pays up to $37,000 a year (half of which the federal government reimburses) to house a family of six, speculators and real-estate investors have made massive profits. Example: the city of New York sold the Jamaica Arms in 1982 for $75,000; speculators resold the property to the city in 1986 for $1.2 million.
Because of the right-to-shelter order, New York has to provide housing for homeless people, and speculators can charge whatever they desire. New York City pays, on the average, $1,800 for a month's rent in a welfare hotel, $900 of which is extracted from federal taxpayers. Meanwhile, tellingly, private institutions such as Long Island University and Fordham University have negotiated long-term contracts buying comparable housing for their students at a monthly rate of $355.
FEMA's Emergency Food and Shelter Program is the largest single federal program for the homeless. And it is growing; Congress increased its budget from $70 million to $120 million this February.
The program is quite decentralized. A National Board made up of representatives from seven charities (including the American Red Cross, the Salvation Army, and the National Council of Catholic Charities) distributes monies to local boards drawn from social-service agencies and chapters of national charities. At each level, the program is administered by chapters of the United Way.
According to National Journal reporter Julie Kosterlitz, National Board representatives use spare time in meetings to form "a natural grass-roots lobby…to speak out about the need for more federal help." As United Way of America vice-president William Fields told Kosterlitz, "If you've got 1,800 local boards comprised of 6,000–7,000 direct-service groups, that's certainly an awesome infrastructure set up to send a message about what's going on out there."
And what of the program's effectiveness? Dennis Kwiatowski, chairman of the National Board (and a FEMA bureaucrat), admitted in 1986 congressional testimony that his program did not give money to areas of greatest need. "The problem is there is no way of targeting funds for the number of homeless," Kwiatowski conceded. "They are mobile, they change on a day-to-day basis."
Because the Emergency Food and Shelter Program is so decentralized, I decided to investigate the program by checking four of the largest grantees—Los Angeles, Chicago, Houston, and three counties surrounding Detroit. I found that FEMA funds in these cities are not, as House Speaker Jim Wright's appeal to the American taxpayer would have it, used primarily to provide "a clean and warm and safe place to spend the night."
In Los Angeles, only $184,000 of the $2.6 million awarded by FEMA last year was spent on shelters. In Chicago, all of $240,000 out of a $2.2-million budget was so spent. In Houston, $66,000 of the $1.3 million allocated. And in suburban Detroit, $100,000 of the $1.5 million was spent on shelters. That's an average of about 7.5 percent.
Most of the tax dollars in the Emergency Food and Shelter Program actually goes to expanding existing welfare programs that can be used by any poor person. FEMA money is mostly used for food banks and rent and utility subsidies. None of the grantees I talked to provided any assistance either in finding new jobs or in training for new jobs.
In some parts of the country, local authorities actually block federal tax dollars—or charitable donations, for that matter—from being used on "a bed for the night." Dave DeCoursey, United Way of Chicago's vice-president for research and development, says that he would be unable to use extra federal funds on shelters because zoning restrictions have barred new shelters from being built in Chicago since 1984. "It's extremely difficult to get a shelter zoned," DeCoursey says.
Could the current cornucopia of federal aid—free food, free housing, free electricity—"solve" the homeless problem? Some experts argue that, as the amount of aid increases, the number of people eager to use it increases.
When Thomas Main analyzed New York homeless statistics, he found that 19 percent of the people staying in shelters over a long-term period were "economic-only" clients—men who entered shelters not because of drugs, mental illness, or disability but because life in a shelter is more attractive than either a life on welfare or a life in a minimum-wage job. Main believes that minority youth with "tenuous family ties" may find a shelter more attractive than living with unfriendly relatives.
"Unlike many landlords, and unlike the welfare system, the shelters are by design very easy to deal with," Main explained in The Public Interest. "Their extensive staffs are paid to make things easy on the clients, and to help them where they can.…Shelters obviate the necessity of taking…work."
While advocating more aid for the homeless, Eugene Ericksen agrees with Main that very poor people would move from marginal housing to shelters. "If a lot of money was spent, you would solve an acute problem," Ericksen says. "But you would still create more demand."
In an interview, Main said he would like to have lawmakers think about several questions before contributing to the budget crisis by responding to the "homeless crisis" with more and more tax dollars. "Is the best way to approach this problem by building more shelters? Is a national right to shelter the approach that makes the best sense?"
And here's an additional question. Given the vast number of programs already serving the homeless, and given the at-best sketchy evidence offered by the homeless lobby, why should taxpayers believe there is a "homeless crisis"?
Martin Morse Wooster, formerly Washington editor of Harper's, recently became an associate editor of The Wilson Quarterly. This article is a project of the Reason Foundation's Investigative Journalism Fund.
---

Close Encounter of a Weird Kind
Mitch Snyder is the media's favorite homeless person. The confidant of senators such as Teddy Kennedy and Hollywood stars such as Whoopi Goldberg and Martin Sheen (who played Snyder in a 1985 TV docudrama), Snyder courts the press assiduously, attracting guilt like a supercharged magnet. This has led some skeptics to think him messianic. "Whatever you do," one friend warned me, "don't talk to Mitch Snyder about Gandhi."
Former adman Snyder looks more like an actor playing a homeless person than an actual bum. He doesn't have dirty hair or holes in his pants; when I talked to him, he was wearing a faded army surplus jacket, a bright-red ski cap, and brand new hiking boots. Think of Bruce Weitz from "Hill Street Blues" with a full beard, and you'll have a close approximation of Snyder's looks.
Snyder doesn't have a phone, but, like any Washington bigwig, he has an appointments secretary who keeps his calendar. I caught up with him on the steps of the Capitol, participating in a rally against aid to the contras that featured 20 speakers yelling at six passers-by. We walked to a nearby fountain and started to talk.
"Mr. Snyder," I asked, "I've heard you call yourself an anarchist, but everything you advocate calls for increased government spending. How do you reconcile this with your anarchism?"
Snyder glared at me through glazed brown eyes. "Our community is most often called Christian anarchist. To be a Christian is to be an anarchist. I refer to myself as a Christian person of faith."
"But how does your anarchism express itself?"
"We advocate different government spending. We advocate the disappearance of government. We don't pay taxes, and discourage others from paying taxes. As long as people give a trillion dollars to the federal government, they should spend it responsibly."
"Why do you feel that the homeless should be given federal funds?" I pressed. "Shouldn't they be taught to fend for themselves?"
Snyder's voice darkened. "Homeless people are not responsible for their state," he said. "Like any oppressed people, they need to fight."
I asked Snyder a few more questions. You'll find his answers scattered through the article. His answers kept getting shorter and shorter, and I thought it best to end the interview. I asked if I could tour the shelter that his group received $6.5 million in federal funds to rebuild.
"You're not from HUD, are you?" Snyder said. "I talked to one guy who defended HUD, and he got a job in [the Department of] Agriculture."
"Mr. Snyder," I said, "I swear to you on a stack of Bibles that I am not going to defend HUD or any government agency in my article."
That got me into Snyder's shelter, but I had to promise not to describe what I saw. It wasn't a pretty sight. As I left, Snyder said I should feel lucky to be allowed into the shelter.
"We only give tours to people who we think can help us," he said. "People like…Alan Cranston."
This article originally appeared in print under the headline "The Homeless Issue: An Adman's Dream".