New Bill Would Tie Federal Transit Funding to Local Zoning Reforms
Local governments that remove development restrictions near transit would have a better chance of scoring federal transit funding grants.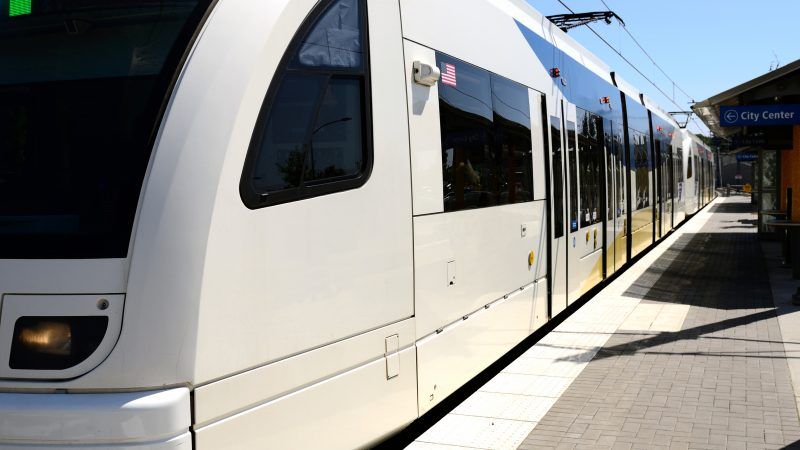 (Dtfoxfoto/Dreamstime.com)
A new bill would tie federal transit dollars to looser local zoning rules. The Build More Housing Near Transit Act, introduced last week by Rep. Scott Peters (D–Calif.), would expand the rating criteria the U.S. Department of Transportation uses to evaluate grant applications for its New Starts program, which funds large transit projects. The idea is to encourage localities to adopt looser rules on development near transit, thereby reducing housing costs.
"We have a housing crisis in San Diego and the federal government has done little to address the magnitude of the problem," Peters said in a statement. His bill, he argued, "will maximize federal investment in transit and increase housing options for families across the country."
New Starts applicants currently must show that they have a "stable and dependable" source of local financing for their transit project before the feds will agree to partially fund it. Peters' bill would add another precondition: "a commitment of local land use policies to accommodate affordable and market-rate housing development associated with the project."
This commitment could be demonstrated in several different ways. The local government could exempt developments near transit from requirements to add parking spaces. Or it could deny bureaucrats the discretion to reject a project. Or—on a less market-friendly note—the transit agency could own the land near new stations.
The bill is endorsed by the American Planning Association and by a slew of housing and transit advocacy organizations. It's similar in concept to another bill introduced by Sen. Todd Young (R–Ind.), the Yes In My Backyard (YIMBY) Act. Young's legislation would require governments applying for federal housing dollars to either ditch some restrictions on development or justify why they are keeping their current land use regulations in place.
Some scholars have criticized the idea of tying federal housing funding to zoning reform, arguing that the approach is ineffective. They point out that the most restrictive jurisdictions are generally wealthy suburbs that don't receive a lot of federal housing dollars.
Linking zoning reform to transportation dollars, therefore, might be a better incentive. Sen. Cory Booker (D–N.J.) has suggested something similar. At the state level, California Gov. Gavin Newsom has floated the idea of tying state gas tax revenue to local housing reform.
But there are still reasons to think that Peters' bill wouldn't lead to more affordable housing.
"Transit, when it is done well, is an amenity, and housing prices go up," says Baruch Feigenbaum, a transportation expert at the Reason Foundation (which publishes this website). So increasing land values could make affordability issues worse, not better.
Peters' bill also raises federalism concerns, Feigenbaum says. "Saying we aren't going to give you transit funding if you don't do the type of land use we want seems a little heavy-handed to me."
Other pro-market scholars have been less critical.
Salim Furth, an economist at George Mason University's Mercatus Center, argues in a recent blog post that the bill would make for more rational transit investments, writing that "transit is planned by one bureaucracy and land use is regulated by another one. The Peters bill would force the transit bureaucracy to at least find out what the land use regulators are doing before laying down millions of dollars' worth of train tracks."
The New Starts program does already take into account some land use questions, including how much affordable housing is located near proposed transit stations and whether land nearby is zoned for higher densities.
It's encouraging to see federal officials take a greater interest in housing affordability. Still tying federal transit funding to local zoning reform seems like a blunt and invasive way of tackling what is essentially a local problem.