Menendez Campaign Thanks Trump for Endorsing GOP Challenger
It's unorthodox, but it makes sense.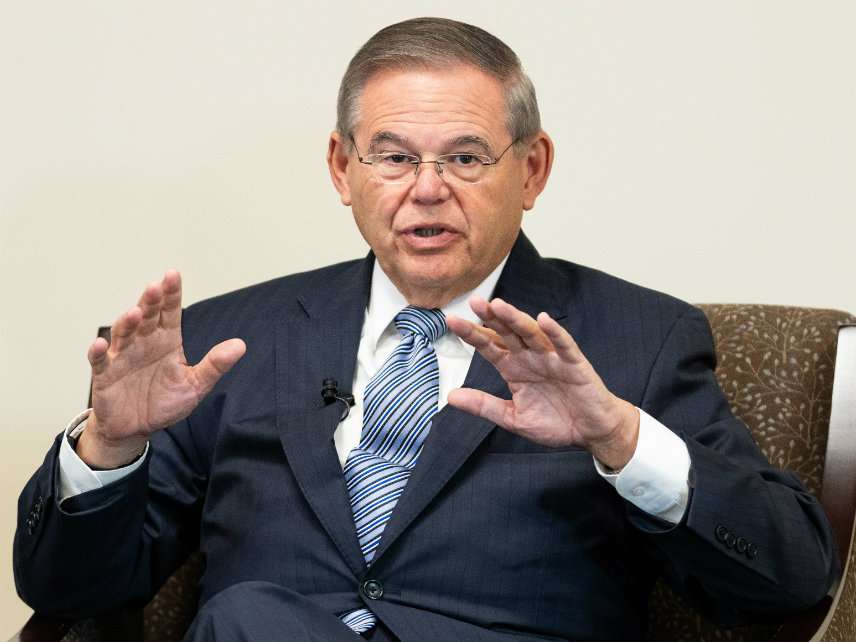 Politicians usually don't celebrate when the president of the United States endorses their political opponents. Democratic incumbent Bob Menendez, however, is grateful that Donald Trump is supporting Republican challenger Bob Hugin in the New Jersey gubernatorial race.
Trump tweeted his endorsement of Hugin today, noting that the candidate has been "successful all of his life" and "would be a Great Senator from New Jersey."
The Menendez campaign was quick to respond with a "thank you":
Thank you. https://t.co/VsWJcn1E1g

— Menendez for NJ (@BobMenendezNJ) November 6, 2018
Prior to his tweet today, Trump had not publicly endorsed Hugin, according to Fox News. That was probably no accident. Though Hugin supported Trump in 2016, it's possible that the candidate didn't want the president to return the favor. As CNBC reports:
Hugin donated six figures to Trump's cause in 2016, was the finance chairman for Trump's New Jersey campaign and served on his presidential transition team. Yet, throughout his campaign, Hugin spent millions of dollars of his own money on ads that not only hammered Menendez for ethics charges, but also cast the former Celgene CEO as an independent-minded candidate who would not pay heed to party when making decisions.
Menendez, for his part, has attempted to tie his GOP challenger to Trump. "[Hugin] will be another vote for Donald Trump," Menendez said at a debate last month. "I will stand up to Donald Trump."
That strategy makes sense. Trump is not particularly popular in New Jersey, a state which Hilary Clinton carried by 14 points in 2016. Trump's approval rating in the state was just 35 percent in a Quinnipiac poll released last month.
For Menendez, taking advantage of voters' dislike for Trump is probably a better plan than letting them focus on the controversy surrounding his own alleged misdeeds. Menendez was indicted last year on federal corruption charges, and while the case ended in a mistrial, it's possible the whole affair might have left a bad taste in the mouths of voters.
It's not clear yet how Trump's endorsement of Hugin will change the race. As I noted last week, Hugin isn't exactly a normal Republican. He backs legalized abortion and LGBT rights, and while he supports border security and opposes sanctuary cities, he does think Dreamers and other illegal immigrants should have a pathway to citizenship.
The nonpartisan Cook Political Report rates the race as a toss-up, though Menendez has a 10.7 point lead in the RealClearPolitics polling average.