Licensing Board Admits It Can't Silence Red Light Camera Critic
The Oregon engineering board fined Mats Järlström for exercising his First Amendment rights. Now, finally, it admits it's not allowed to do that.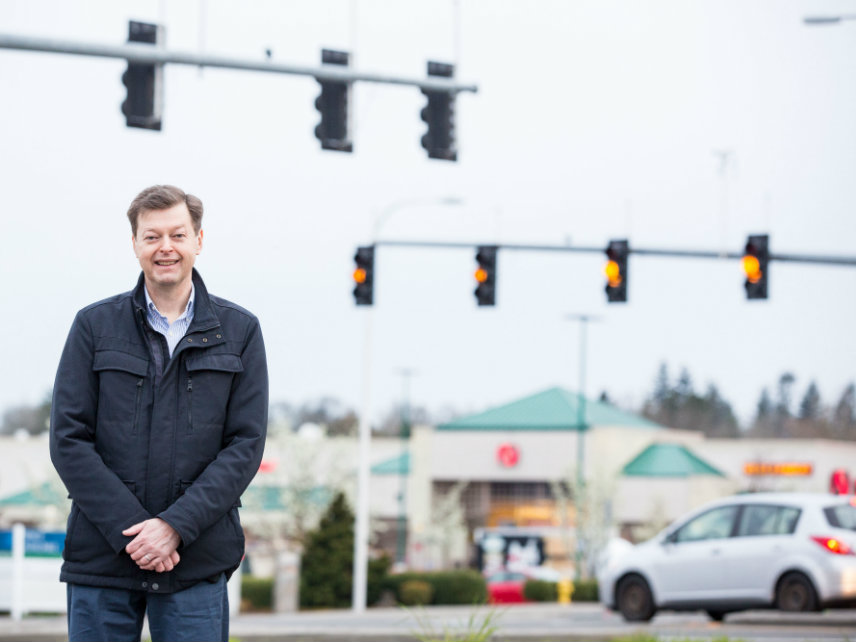 More than three years after it targeted Mats Järlström for, essentially, doing math without a license, the Oregon State Board of Examiners for Engineering and Land Surveying has admitted they were wrong to do so.
As Reason has previously reported, Järlström landed in the board's crosshairs in 2014, after his wife received a traffic ticket in Beaverton, Oregon. A trained electronics engineer, Järlström had used his knowledge to critique the timing of the red light camera that snagged his wife's car.
Looking for feedback, Järlström sent a letter to the board in 2014 asking for the opportunity to present his research on how too-short yellow lights were making money for the state by putting the public's safety at risk. "I would like to present these fact for your review and comment," he wrote.
Instead of inviting him to present his ideas, the board threatened him. Citing state laws that make it illegal to practice engineering without a license, the board told Järlström that even calling himself an "electronics engineer" and using the phrase "I am an engineer" in his letter were enough to "create violations." They also slapped him with a $500 fine.
This week, the state of Oregon conceded that the board had overstepped its authority. "We have admitted to violating Mr. Järlström's rights," Senior Assistant Attorney General Christina L. Beatty-Walters said in court Monday.
In court documents, the state admitted that the board's attempt to silence Järlström "was not narrowly tailored to any compelling state interests." The board has refunded the $500 fine, and it has been enjoined against targeting Järlström again "for his speech about traffic lights and his description of himself as an engineer except in the context of professional or commercial speech."
But the fight might continue. Järlström's lawsuit did not seek any monetary damages, but it asked the state court to issue an order telling the state state board to stop violating Oregonians' free speech rights. The decision handed down this week applies only to Järlström.
That's not enough, says Samuel Gedge, an attorney with the Institute for Justice, the libertarian law firm that represented Järlström in court. "The existence of these laws and the way they've been applied time and time again has violated free speech rights," Gedge told The Oregonian.
Indeed, as crazy as Järlström's story is, it's not the first time the Oregon State Board of Examiners for Engineering and Land Surveying has been overly aggressive about enforcing its rules about who is and who is not an engineer.
In 2014, the state board investigated Portland City Commissioner Dan Saltzman for publishing a campaign pamphlet that mentioned Saltzman's background as an "environmental engineer." Saltzman has a bachelor's degree in environmental and civil engineering from Cornell University, a master's degree from MIT's School of Civil Engineering, and is a membership of the American Society of Civil Engineers. But he isn't a licensed engineer in the state of Oregon.
According to Järlström's lawsuit, the board spent more than a year investigating Saltzman's background before voting to issue an official "warning" against using the word engineer incorrectly.
In another case, the state board investigated a Republican gubernatorial candidate for using the phrase "I'm an engineer and a problem-solver" in a campaign ad. The candidate in question, Allen Alley, had a degree in engineering from Purdue University and worked as an engineer for Boeing. And of course, he wasn't trying to lie about his lack of an Oregon-issued license; he was making a freaking campaign ad.
In 2010, the state board issued a $1,000 fine for illegally practicing engineering to a local activist who told the La Pine, Oregon, city council that a proposed new power plant would be too loud for nearby residents.
The board once investigated Portland Monthly magazine for running a story that described a young immigrant woman as "an engineer behind Portland's newest bridge." The woman in the story did not describe herself as an engineer, but the magazine's editors included that description in the headline.
In court, Judge Stacie F. Beckerman pressed the board to explain its history of aggressive enforcement actions and to clarify what it considered to be the scope of professional and commercial speech.
"If the board got it wrong in this case, why should the court defer to the board going forward?" Judge Beckerman asked. An additional ruling that could limit the board's actions in future cases is expected sometime in the next few weeks, The Oregonian reports.
The board has admitted defeat in Järlström's case, but it is trying to preserve its ability to go after other people who, like Järlström, want to do nothing more than talk about mathematics and engineering in a public forum. The First Amendment should apply to those people as well, and not just to those who have the time and ability to sue the state.
Järlström's attorneys say the board needs to do more than simply refund Järlström's fine and admit they made one mistake. "Past history," says Gedge, "suggests the board can't be trusted on how the laws should be applied constitutionally."