Movie Review: The Little Hours
Aubrey Plaza and Dave Franco get medieval in an under-powered clerical comedy.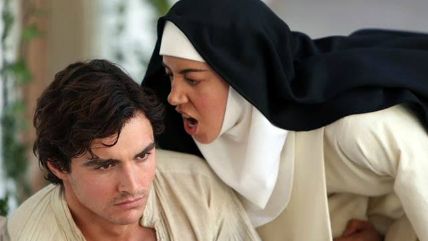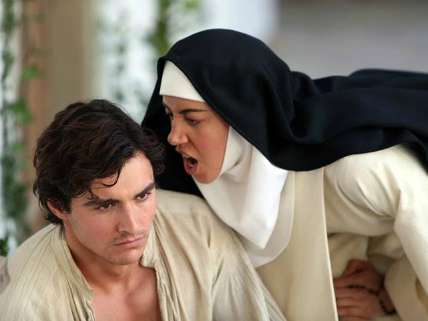 The Little Hours is fully stocked with smart, funny, attractive actors, and it doesn't take long for you to start wondering what they're doing in this slow-going comedy. The picture is set in 14th Century Tuscany; its narrative is drawn from Bocaccio's medieval story-telling classic The Decameron, and its laugh strategy is largely dependent on linguistic anachronism. The tone is set in an early encounter on the grounds of the convent in which most of the movie unfolds. A friendly gardener is passing by a pair of nuns. "Beautiful morning, sisters," he says. "Get the fuck outta here!" one of the nuns responds.
Later, in another confrontation, this same nun, Sister Fernanda (Aubrey Plaza), berates the man further: "Why are you making eye contact with us, you fucking pervert?" Her companion, Sister Genevra (Kate Micucci), weighs in as well, castigating the man, for no reason, as "a piece of shit."
These overamped insults, erupting out of nowhere, provoke puzzlement more than laughter. And later, at a castle not far away, when we hear a nobleman predicting that an impending invasion of hated Guelphs will soon have his family "eating chicken, like a bunch of fucking Croatians," you might wonder whether this joke would have been funny even 700 years ago.
The movie has the shaggy rhythms of a show being half-improvised by a group of friends. Plaza, who also produced, is the longtime co-vivant of writer-director Jeff Baena; and some of the other actors also took part in his two previous films, Joshy and Life After Beth. (One of the returnees, Alison Brie, is joined here by her husband, Dave Franco.)
Like The Decameron itself, the movie takes a mocking stance toward the corrupt Church of Rome, and subtly surveys the status of medieval women, as well. Brie's character, Sister Alessandra, has been dumped in the convent by her father (Paul Reiser) because he can't afford to pay the dowry that would be necessary to marry his daughter off. Fernanda and Genevra have taken up the cloistered life for secret reasons of their own, and their mother superior (Molly Shannon) also has a personal agenda.
The convent is presided over by a kindly priest, Father Tommasso (John C. Reilly). One day, on a trip through the woods, Tommasso comes upon a handsome young man named Massetto (Franco), who is fleeing the vengeance of the aforementioned nobleman, Lord Bruno (Nick Offerman), who caught Massetto shagging his wife (played by the wonderfully peppery Lauren Weedman). Tommasso sympathizes with Massetto and takes him back to the convent to replace its reviled gardener. Knowing his nuns well through their confessional visits, the priest cautions Massetto, for his own safety, to pose as a deaf-mute. Predictably, this turns out to be no impediment to the carnal aggressions of the virginal sisters by whom he soon finds himself surrounded.
The movie becomes a simple sex farce, with one or another of the nuns—or two, or three at a time—attempting to have their way with the hunky Massetto. Despite some brief lesbian business and a bit of naked witchery toward the end, little of this is especially interesting, and none of it rises to the level of hilarity. There are a couple of amusing moments (when one of the nuns misbehaves in a major way, the penance she is assigned is to fast for a year), but generally the humor lacks bite, and is too soft-edged to score any serious satirical points. Hope is briefly stirred by the arrival of Fred Armisen, playing a visiting bishop. Armisen can be entertaining without saying a word, and maybe he could have salvaged this underpowered movie. Unfortunately, he arrives too late.