Trump Introduces Travel Ban 2.0, Transgender Bathroom Case Punted, Marines Investigate Sharing of Nude Pics: P.M. LInks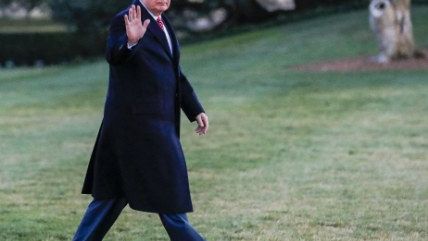 Polaris/Newscom

President Donald Trump has introduced the new draft of his travel ban order, which now leaves out Iraq from the list of blocked countries. The indefinite ban on Syrian refugees has been reduced to 120 days. The American Civil Liberties Union, which sued to block the first order, sees this one pretty much the same way, so expect legal challenges.

The Supreme Court has punted a case about public school transgender facility accommodation back down to lower courts. It had initially planned to hear the case at the end of the month, but the Trump administration revoked orders put forth by President Barack Obama's administration, which changed everything.
The Supreme Court also ruled today that courts can breach the concept of secrecy in the jury room if racial or ethnic slurs may have played a role in a juror's decision whether to convict somebody.
The Marines are investigating allegations that several members have been sharing naked pictures of female Marines online.
ISIS militants allegedly used chemical weapons in a battle in Mosul, Iraq, last week, injuring at least a dozen civilians.
The former mayor of Stockton, California, has been arrested for charges that include embezzlement, misappropriation of public funds, and grand theft. Stockton notably went bankrupt a few years ago.
Follow us on Facebook and Twitter, and don't forget to sign up for Reason's daily updates for more content.