Donald Trump's Cronyism and Authoritarianism on Full Display in Twitter Attack on G.M.
Trump's attack on General Motors is factually wrong, economically illiterate, and another example of how he bullies companies to do his will.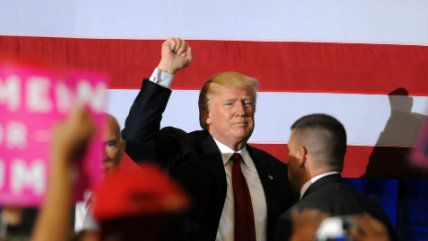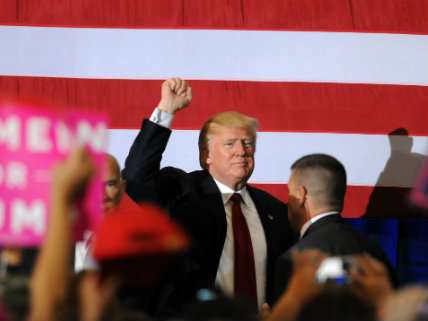 Donald Trump has not yet taken the oath of office, but he's again overstepping the limits of presidential authority by bullying more American companies for shipping jobs to other counties.
As he did in December—claiming credit when Carrier, an Indiana-based air conditioning and heating manufacturer that had been a popular whipping boy during Trump's presidential campaign, decided to cancel plans for moving jobs to a new facility in Mexico—Trump took to Twitter over the weekend to berate General Motors for selling Mexican-made cars in the United States.
General Motors is sending Mexican made model of Chevy Cruze to U.S. car dealers-tax free across border. Make in U.S.A.or pay big border tax!

— Donald J. Trump (@realDonaldTrump) January 3, 2017
The carmaker joins a growing list of American businesses being personally and publicly attacked by the president elect. It gives another chilling look at how the country's 45th president views the relationship between government and business, and again shows Trump to be an economically illiterate bully.
"The president-elect's tweet is disturbing on lots of different levels," Daniel Griswold, a senior research fellow at the Mercatus Center, said in a phone interview Tuesday.
For starters, Trump's tweet about G.M. isn't very factual. As The Wall Street Journal reported on Tuesday, most of the Cruze hatchbacks made at Chevrolet's Mexico facility are sold in foreign markets, not in the United States. Producing vehicles in foreign countries helps car manufacturers make more sales abroad and open greater market share. That's why BMW operates a manufacturing plant in Spartanburg, South Carolina, and Nissan builds cars in Smyrna, Tennessee.
Trump's economic nationalism will make it harder for American brands like G.M. and Ford to compete in growing foreign markets like Latin America and might counter-productively hurt those companies if they lose market share to foreign rivals, Griswold predicted.
"With the president-elect intimidating companies into withdrawing from foreign markets, we stand to lose influence and market share in those economies," Griswold told Reason.
Targeting the automobile industry just doesn't make much sense. Sure, unemployed auto workers in the Rust Belt might have helped Trump win the White House, but the industry as a whole is flourishing in the United States. Motor vehicle exports from the United States reached a record 2.6 million in 2015. In 2016, more than 12 million cars and light trucks were assembled in the United States, notes Griswold, and output has more than doubled since 1994, when one of Trump's favorite boogeymen, the North American Free Trade Agreement (NAFTA), was signed.
On Tuesday, Trump was at it again, taking credit for Ford's decision to scrap plans for a $1.4 billion Mexican manufacturing facility and to invest $700 million in a Michigan plant instead. Ford, like Carrier, had been a popular target for Trump's vitriol during the campaign.
"It used to be cars were made in Flint and you couldn't drink the water in Mexico," Trump told a crowd during a September speech, conflating two issues that didn't have much in common beyond happening in the same physical location. "Now the cars are made in Mexico, and you can't drink the water in Flint. That's not good."
Less than two weeks after winning the election, Trump took credit for Ford's decision to keep a plant in Kentucky open instead of moving it to Mexico:
"@DanScavino: Ford to scrap Mexico plant, invest in Michigan due to Trump policies"https://t.co/137nUo03Gl

— Donald J. Trump (@realDonaldTrump) January 3, 2017
It's dangerous for a president to meddle in the economy on such a personal level, but it's arguably more dangerous for him to believe that he's doing so effectively. Consider what Trump said in December about Carrier's decision to keep their plant in Indiana open. On stage, he told a story about meeting a Carrier worker on the campaign trail who expressed the utmost confidence that Trump would keep the company in place, even though the decision to move had already been made.
"I never thought I made that promise," Trump said. "Not with Carrier. I made it for everybody else. I didn't make it really for Carrier."
"That was a euphemism," Trump continued. "I was talking about Carrier like all other companies from here on in, because they had made the decision a year and a half ago."
That's ego masquerading as humility. Of course Trump believed he had the power to bully Carrier into staying in Indiana—or at least that he would have the power to bully "all other companies from here on in" to make similar decisions—and to reward the faith that so many had placed in him. That the company did so in such short order after his victory at the polls only reinforced the strongman message. Trump was practically glowing (moreso than usual) on the stage that day in Indiana, giddy over the opportunity to demonstrate that all America really needed was a chief executive determined to prevent jobs from spilling over the border.
Trump was not shy about foreshadowing. "Companies are not going to leave the United States anymore without consequences," Trump promised to raucous applause. "Not going to happen. It's not going to happen, I'll tell you right now."
There will likely be more cheering about Trump's bullying of Ford and General Motors. "Trump is already delivering the jobs he promised America," trumpeted the New York Post on New Year's Day (the headline got a retweet from the president-elect, of course), but that might only encourage the new president to continue down a dangerous path of mixing politics with businesses in an unprecedented way. Libertarians and fiscal conservatives for decades have talked about corporate welfare schemes as examples of "government picking winners and losers," but Trump is threatening to take the idea to its most extreme conclusion—one where it's not clear who exactly the winners are.
"This is the rule of one man," said Griswold. "Not the rule of law."