Gary Johnson Will Get 4.9% of the Vote, Predicts FiveThirtyEight
Libertarian Party may fall tantalizingly short of its number-one goal.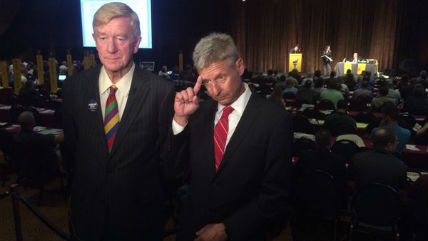 Eleven days out from what had long looked to be a breakthrough moment for the Libertarian Party, the Gary Johnson campaign this morning received a dagger in the ribs from FiveThirtyEight number-cruncher Harry Enten:
1st time all year Gary Johnson has dropped below 5.0% in polls-only projection. No federal funding for Libertarians https://t.co/En5ydrdIyH pic.twitter.com/wJ5Q9eYcTR

— (((Harry Enten))) (@ForecasterEnten) October 28, 2016
It's not just about projections, either: The site's running snapshot of the election as it stands has the Libertarian nominee right at 5.0 percent, down a full percentage point from as recently as Monday. Johnson was last at 7 percent on Oct. 8, 8 percent on Sept. 22 (back when I wrote a post titled "Gary Johnson Continues to Avoid the Third-Party Fade"), and 9 percent on Aug. 25. His high point in FiveThirtyEight's reckoning was 9.9 percent on July 17.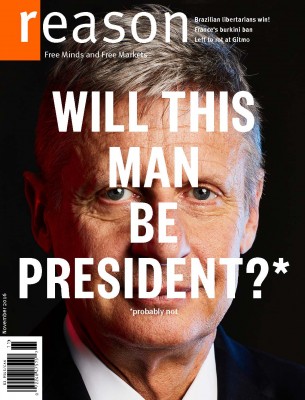 The same trajectory can be found in RealClearPolitics' polling averages (which, unlike those from Nate Silver's outfit, do not take into account state polls or differing quality in the data, though they do measure Green Party nominee Jill Stein). There, Johnson sits currently at 5.2 percent, down from 6.0 percent on Tuesday, 7.1 percent on Oct. 6, 8.1 percent on Sept. 25, and a high of 9.2 percent on Sept. 14 (a day after I wrote a post titled "New Poll: Gary Johnson Support 'Essentially Unmoved Even After' Aleppo").
In an interview with me on Tuesday, Johnson posited that "the factor involved in the drop in polls" was "the poll shift from registered voters a couple of months out to likely voters," the latter of which "underweigh young people and independents." But even among registered voters, his numbers have been in free-fall: The latest CNN/ORC poll, which came out Monday, saw a registered-voter drop in just 18 days from 9 percent to 5 percent (likely voters decreased from 7 percent to 3).
Are there any other reasons to hope that Johnson can punch above his polling weight? I can think of just one: His terrific showing among active-duty military, who I presume are disproportionately underweighted in most public-opinion surveys, due to many being overseas. And though the momentum is hurtling in the wrong direction, it is theoretically possible that Hillary Clinton will reassert a larger lead over Donald Trump and more voters will belatedly realize that the race is not close in the state they actually live in.
For the Libertarian Party, the difference between 4.9 percent and 5.0 percent is huge: The higher number would mean achieving official "minor party" status from the Federal Elections Commission, making it eligible for a taxpayer gift of around $10 million, in addition to having a much smoother time with the onerous ballot-access requirements that otherwise soak up a large percentage of the party's time and energy. When I asked the candidate this week whether he thought he'd cross that threshold, he said "I don't know, we'll see." The answer to that question will go a long way toward assessing the heavily disputed question of whether his campaign has been a historic success, a bungled opportunity, something in between, or even all of the above.