Gary Johnson's Polling Finally Starts to Go Down
On the eve of the first presidential debate, the leading third-party candidate sees a mini-flurry of negative numbers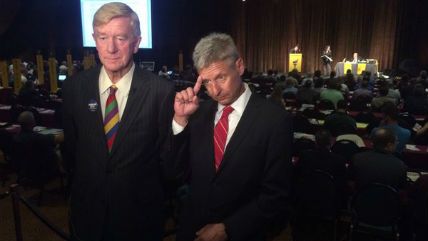 As someone who has written at least four times in this space (1, 2, 3, 4) about how the national poll numbers for Libertarian Party presidential nominee Gary Johnson have stubbornly (and ahistorically) refused to go down, I'm here to tell you that it looks like they finally might be inching that direction. The past two days have brought forth four surveys showing poll-over-poll declines, some of them quite large:
09/22-25 Quinnipiac: HC 44% DT 43% GJ 8% JS 2%
09/08-13 Quinnipiac: HC 41% DT 39% GJ 13% JS 4%
09/22-24 Economist/YouGov: HC 44% DT 41% GJ 5% JS 2%
09/18-19 Economist/YouGov: HC 40% DT 38% GJ 7% JS 2%
09/21-24 Bloomberg: DT 41% HC 43% GJ 8% JS 4%
08/05-08 Bloomberg: HC 44% DT 40% GJ 9% JS 4%
09/19-22 ABC News/Washington Post: HC 46% DT 44% GJ 5% JS 1%
09/05-08 ABC News/Washington Post: HC 46% DT 41% GJ 9% JS 2%
That's a four-poll average of 6.5 percent for the latest surveys, down from 9.5 percent in the most recent of those same four polls (Green Party nominee Jill Stein is also down, from 3.0 percent to 2.3). The Quinnipiac five-point drop was the biggest percentage-point change in any consecutive polls Johnson has seen this campaign, beating a record tied…uh, the day before by ABC News/Washington Post (which, incidentally, is one of the Big Five agencies selected by the Commission on Presidential Debates to determine eligibility; the Libertarian's average on those now stands at 7.4 percent, just under half of the required support).
What happens when you broaden the picture out a bit? I averaged out the latest September polls across 16 surveys, and compared the numbers for Johnson and Stein in the prior iterations of those same polls:
NEW: GJ 7.9% JS 2.8%
OLD: GJ 8.7% JS 3.3%
What's happening is plain as day: In all but one of those 16 polls, the newer version featured a smaller gap between two-way race and the four-way race. Or better stated in English, voters are leaving the third-party candidates in order to impact the two-party proceedings. Which certainly makes intuitive sense, given that the Clinton-Trump contest is pretty close to being tied. (Though as I mentioned last Thursday, several third-party presidential candidates have seen something like a dead cat bounce in October, before a last-second decline.) At any rate, FiveThirtyEight has ratcheted down its expectations for Johnson from 7.1 percent a month ago, to 6.5 percent today.
Is this beginning of a slide inexorable? I don't think so, for two reasons: 1) This election is just weird. Even Johnson's lack of decline up until now has been weird. Who knows what the hell will happen? Less flippantly, 2) tonight's debate, which will likely break viewership records, could change the trajectory of the campaign in all sorts of different ways, each with multiple potential ramifications. To cite one that could prove favorable to the Libertarian ticket, both Trump and Clinton could conceivably come off as unbearably awful, leading fence-sitters to jump desperately into any available new briar patch.
Make sure to tune into Facebook Live tonight for my interview with Gary Johnson and Bill Weld at 6 p.m. ET.