Cornell College Republicans Decertified After Endorsing Gary Johnson
The group calls the Libertarian nominee "the true conservative in this election."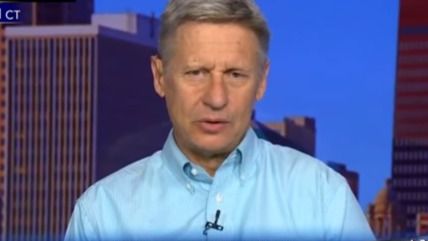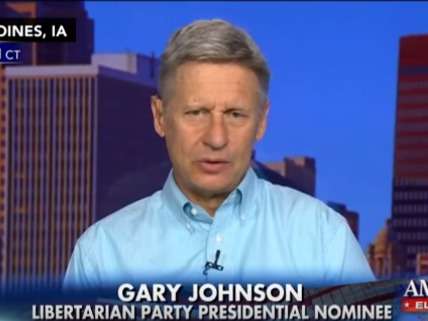 Last Friday the Cornell University Republicans endorsed Libertarian Gary Johnson for president, calling him "the true conservative in this election" and saying "this election's unprecedented nature has made blind commitment to our Party unpalatable." But blind commitment is what political parties are all about, so the very next day the New York Federation of College Republicans decertified the Cornell chapter, insisting that you cannot be a true Republican if you aren't willing to swallow the steaming pile of shit that is Donald Trump.
"Clubs are within their right not to endorse certain candidates within the party and decide to reallocate their resources down the ballot," the state federation explained on Facebook. "What is unacceptable, however, is using a party-affiliated organization as a tool to support another party's candidate in an election, whomever that candidate may be and whatever office the election may be for."
The Cornell group saw things differently, imagining that principles are more important than mindless partisan cheerleading:
Cornell Republicans

Our organization does not solely represent the Republican Party. Our first responsibility is to our members: libertarians, moderates, neoconservatives, and everyone in between. We value our ideological diversity and welcome differing perspectives.

This election's unprecedented nature has made blind commitment to our Party unpalatable. The Cornell Republicans cannot, in good faith, endorse our party's nominee. Mr. Trump should not be the face of American conservatism. Instead, we are proud to endorse the true conservative in this election: Gary Johnson.

Governor Johnson's commitment to fiscal conservatism is unparalleled. Governing a blue state, he shrunk the size of the government, balanced the state's budget, and never increased taxes. While we do not agree with all of his positions, we firmly support his devotion to free trade, states' rights, and other conservative principles.

His straight candor and polite conduct contrast with Mr. Trump's visceral rhetoric and angry demeanor. When Mr. Trump insults our war heroes, Governor Johnson enjoys high support among active-duty troops. When Secretary Clinton refuses to meet the press, Governor Johnson fields questions on his policy record. He offers real solutions to our country's problems. Joined by Bill Weld, the former Republican governor of Massachusetts, the Libertarian ticket offers experienced, conservative solutions based on ideas of the free market and limited government.

Gary Johnson recently polled as high as 11%. If we can help him reach 15% in the next few weeks, he can debate Hillary Clinton and Donald Trump and every American will see that he is the rational choice for office. No one wants to vote for the lesser of two evils. Together, let's stand on the right side of history.
This defection reflects not just Trump's odiousness but Johnson's strong appeal among young adults. An Investor's Business Daily/TIPP poll completed on September 1 put his support among 18-to-24-year-olds at 33 percent, far ahead of Trump's (17 percent) or Green Party nominee Jill Stein's (13 percent) and close to Hillary Clinton's (37 percent). In other words, Johnson was about twice as popular as Trump in this age group. Inside Higher Ed, which noted the Cornell controversy, reports that "Republican groups at campuses including Harvard, Penn State and Princeton Universities have decided not to endorse" Trump, while "the College Republicans at the University of Virginia are deliberating whether they will do so."
[Thanks to Ken Costantino for the tip.]