Bernie Sanders Didn't Drop Out, Now He Gets a Bigger Say in Democratic Platform
Ignoring calls to quit for the sake of "party unity," the democratic socialist gets to leave a bigger mark on the Democrats.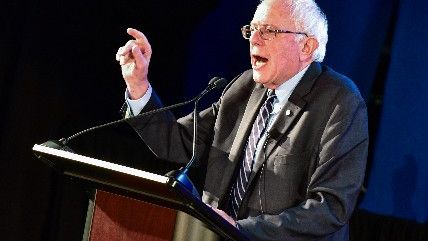 (Marion Rush/Dreamstime.com)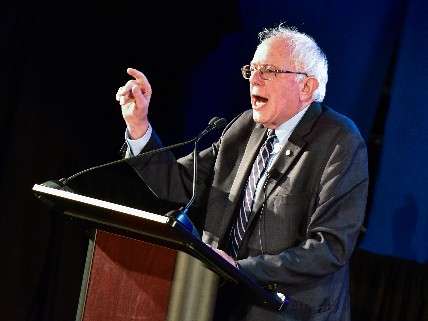 Supporters of Hillary Clinton have been beating the "party unity" drumbeat for literally months now, arguing that Sen. Bernie Sanders' (I-Vt.) ongoing campaign for the Democratic nomination for president is hurting Clinton's chances in the general election, presumably against Donald Trump.
But Sanders has plenty of good reasons for not dropping out, including the FBI investigation into Clinton's use of a private email server while serving as secretary of state, the fact that Clinton has yet to clinch the nomination through pledged delegates alone, and Sanders' own promise to his devoted supporters that he would not concede until the final primary on June 14. As a long-time independent and essentially a Democrat-In-Name-Only (DINO), Sanders had nothing to gain and everything to lose by pulling the plug on his insurgent candidacy, especially since he continues to win primaries.
Now it appears that Sanders' stubborness has paid off, as the Democratic National Committee is allowing him to appoint five people to the 15-person panel which will write the Democrats' 2016 platform. Clinton will appoint six people, and DNC Chair Rep. Debbie Wasserman Schultz (Fl.) will appoint four.
Some of Sanders' choices seem designed to infuriate mainstream Democrats —including radical academic Cornel West, who has fallen out of favor with the party's rank-and-file over his withering criticism of President Obama, and pro-Palestinan activist James Zogby, who is also the president of the Arab-American Institute. It should be noted that at the American Israel Public Affairs Committee (AIPAC) conference this past March, Clinton gave a speech as forcefully pro-Israel as any of the Republican presidental hopefuls, while Sanders skipped the conference and instead delivered a speech from the campaign trail where he called for Palestinian "self-determination" and end to the Israeli occupation of the West Bank.
Sanders also chose climate change activist Bill McKibben, Minnesota Congressman Keith Ellison (one of only two Muslims in Congress and the head of the Congressional Progressive Caucus), and Native American activist Deborah Parker.
Clinton surprised no one by choosing six loyalists, as reported by the Washington Post:
Wendy Sherman, a former top State Department official and Clinton surrogate; Neera Tanden, president of the Center for American Progress and a longtime Clinton confidante; Rep. Luis V. Gutiérrez of Illinois; Carol Browner, a former director of the White House Office of Energy and Climate Change Policy and former head of the Environmental Protection Agency; Ohio state Rep. Alicia Reece; and Paul Booth of the American Federation of State, County and Municipal Employees union.
Wasserman Schultz named Clinton supporter Rep. Elijah E. Cummings (Md.) as the chairman of the committee, and also appointed former CEO of Claire's Stores Bonnie Schaefer, and former Rep. Howard Berman (Calif.).
In another move that shows the DNC is willing to extend an olive branch to principled progressives who have bucked the party line, Wasserman Schultz also appointed Rep. Barbara Lee (Calif.) who memorably cast the only vote in Congress against authorizing the war in Afghanistan in 2001. Lee had argued that the Authorization for the Use of Military Force (AUMF) was written too broadly and could be used to justify the legality of any number of military actions that had nothing to do with al-Qaeda's attack on 9/11/01. History has proven Lee correct, as that particular AUMF has been used by both President George W. Bush and President Obama to take unilateral military action in a number of countries which we are not at war with.
Though the inclusion of five hand-picked voices to represent his campaign is a huge win for Sanders, he is showing no signs of being willing to play nice with Clinton or the party just yet. In an interview with the Associated Press he said he condemns violence but that the Democratic convention could get "messy." He added, "Democracy is not always nice and quiet and gentle. But that is where the Democratic Party should go."
Last night in California, Sanders accused the Clinton campaign of reneging on an agreement to stage one final debate in the Golden State, and also said in a statement, "I also would suggest that Secretary Clinton may want to be not quite so presumptuous about thinking that she is a certain winner. In the last several weeks, the people of Indiana, West Virginia and Oregon have suggested otherwise."