'Women's Issues' Dominate In 2016 Presidential-Campaign Ads
Equal pay, abortion, and other issues concerning sex and gender are all over TV this election.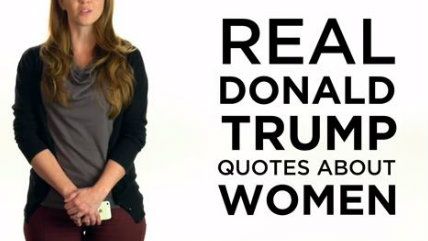 (screenshot from anti-Trump ad)
Well over half of Hillary Clinton's campaign commercials for the 2016 presidential race—61 percent—reference issues such as gender equality, women's rights, or "equal pay." But it's not just Clinton who's making sex- and gender-issues central to her TV advertising. According to Adweek, 29 percent of Vermont Sen. Bernie Sanders's television ads mention equal pay. And 17 percent of TV spots from Texas Republican Ted Cruz mention abortion.
"I truly believe there has never been a presidential election where women's issues have been so prominent during almost every moment, on both sides of the aisle," Dan Jaffe, who heads the Association of National Advertisers' government relations department, told Adweek.
Commercials run by Clinton, Sanders, and their GOP opponents are just the tip of the proverbial iceberg, of course. With Super PACs and political interest groups also taking to the boob tube to peddle politics, we're seeing even more election ads focusing on abortion, birth control, and the gender pay gap. Between March 15 and April 15 alone, some 34 new presidential campaign ads (on all subjects) aired, with Super PACs sponsoring 44 percent of these ads.
And while Donald Trump's campaign hasn't run any ads targeting women or gender issues, anti-Trump ads have focused on the candidate's perceived misogyny. One, featuring real women reading real Trump quotes about women, has been viewed on YouTube more than three million times since it was released in March.
According to the Ace Metrix, which measures the performance of political ads, commercials made by candidate Super PACs receive relatively low favorability ratings from viewers, compared to those made by the candidates' official campaigns. Sanders and Kasich ads score the highest with viewers, followed by Clinton campaign ads. Rounding up the bottom with the Super PAC ads were commercials produced by the Cruz and Trump campaigns.
An analysis from Ad Age Datacenter and Kantar Media's Campaign Media Analysis Group found that as of April 1, 2016, the combined spending on TV and radio spots by Hillary Clinton's campaign and pro-Hillary PACs was around $62.7 million. Total spending on Sanders' ads was around $57.7 million, Cruz ads around $32.5 million, Kasich ads around $18.6 million, and Trump ads around $18 million. Anti-Trump ad spending totaled about $24.6 million.