Boston Reasonoids: See Anthony Fisher's Film, Sidewalk Traffic, Fri 8/28 at 430p
And then come have a drink with the filmmaker after the show!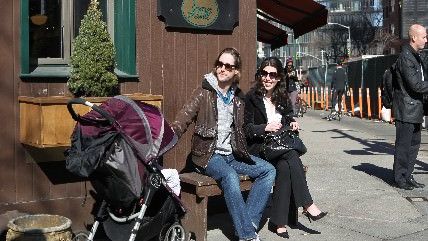 Beantown Reasonoids!
Your humble Reason TV correspondent returns to his college hometown for the Massachusetts Premiere of his first feature film, Sidewalk Traffic, which will screen as part of the Massachusetts Independent Film Festival on Friday August 28. Stick around after the screening for Q&A and impromptu socializing with the filmmaker.
WHERE: The historic Brattle Theater. 40 Brattle St, Cambridge, MA 02138
WHEN: Friday August 28, 2015, 4:30p ET
A brutally honest comedy/drama about new fatherhood, bad career breaks, depression, and holding onto your dreams, Sidewalk Traffic has been programmed by more than 20 film festivals and won the Audience Award at the Lower East Side Film Festival and Best Microbudget Feature at the Berlin Independent Film Festival.
The cast features Johnny Hopkins (TNT's Public Morals), Erin Darke (Kill Your Darlings, Love and Mercy), Samm Levine (Freaks and Geeks, Inglorious Basterds), Heather Matarazzo (Welcome to the Dollhouse, The Princess Diaries), Tom Shillue (new host of Fox News' Red Eye), and beloved Reason contributor Kurt Loder.
Check out Sidewalk Traffic's HD trailer below, follow the film on Facebook and Twitter, and click here for tickets to the Boston screening.