Use of Chokeholds "Alarming," Says NYPD Inspector General's Report
Disciplining offending officers is "complex" and "inconsistent."
New York City's newly created Office of the Inspector General for the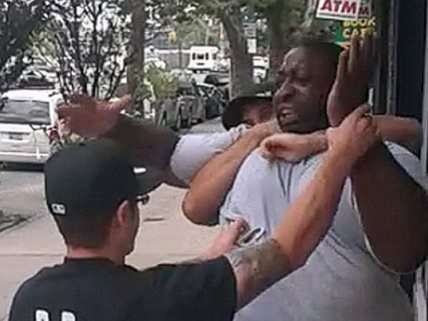 NYPD (OIG-NYPD) issued its first report Monday, titled "Observations on Accountability and Transparency in Ten NYPD Chokehold Cases" and found that "the disciplinary process is complex, multi-tiered, and often delivers inconsistent results."
OIG-NYPD only investigated the most recent cases in which the Civilian Complaint Review Board (CCRB) determined that NYPD officers used chokeholds which are specifically banned in the NYPD's Patrol Guide, but not illegal under city or state law. This "focused review" is not meant to be a comprehensive study, but rather a "road map of key policing issues with regard to the use of force."
As detailed in the report's Executive Summary, complaints originate from the CCRB, which recommends charges that are generally dismissed or downgraded by the NYPD's Department Advocate's Office (DAO), before eventually reaching the Police Commissioner. In the cases profiled in the report, the commissioner rejected all the CCRB's disciplinary recommendations "without explanation":
CCRB recommended Administrative Charges, the most serious level of NYPD discipline, in nine of the ten cases studied. In the one chokehold case where CCRB recommended something less than Administrative Charges – the case of an officer who died before. CCRB's recommendation was reviewed or acted upon – CCRB recommended Command Discipline.

NYPD's Department Advocate's Office (DAO) – the NYPD unit that prosecutes NYPD disciplinary matters and, until April 11, 2013, was responsible for prosecuting all substantiated use-of-force cases – handled seven of the ten substantiated cases reviewed for this study. CCRB recommended Administrative Charges in six of those seven cases, but none of these substantiated chokehold cases ever went to trial before a NYPD Trial Commissioner. Instead, DAO departed from CCRB's recommendation every time. Rather than pursue the more serious Administrative Charges, DAO proposed -- a lesser penalty -- in four cases, Command Discipline in one case, and no discipline whatsoever in one case.

The Police Commissioner made a final determination about discipline in six of the ten cases reviewed for this study. All six times, the Police Commissioner rejected the disciplinary recommendation of CCRB, imposing a less severe penalty than that recommended by CCRB or deciding that no discipline was warranted at all.
In thr infographic below, the life and death cycle of chokehold complaints against the NYPD is illustrated: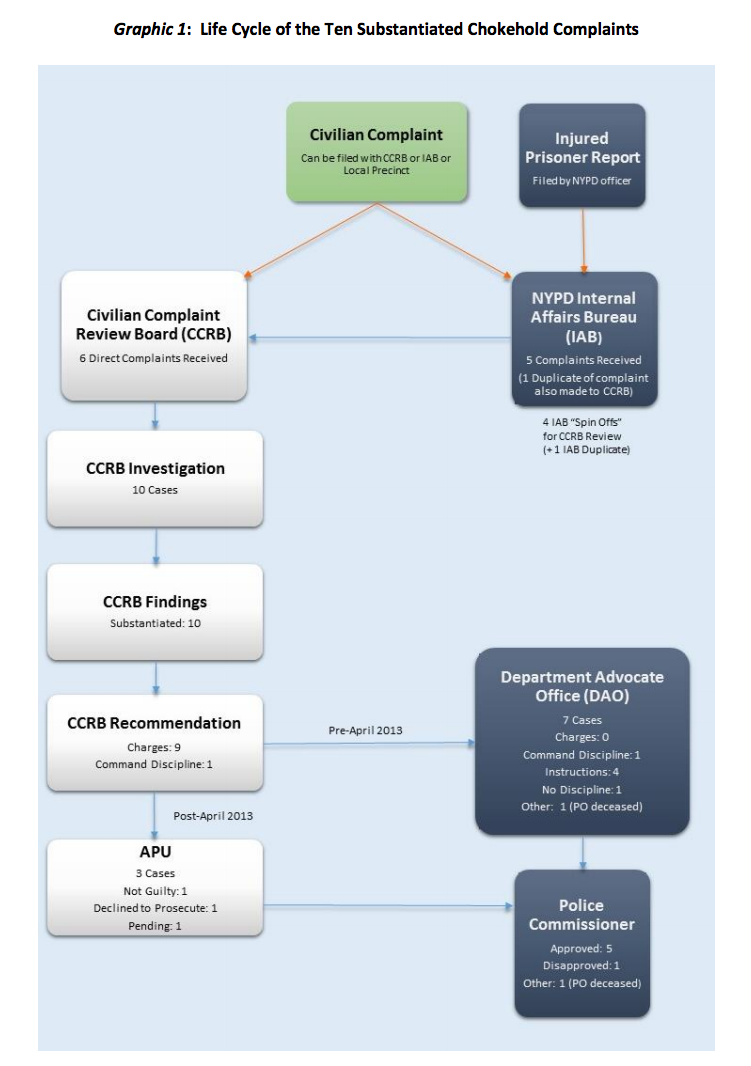 Also noted in the report, "in several of the ten cases reviewed, NYPD officers employed prohibited first act of physical force (emphasis in original) in response to verbal resistance, as opposed to first attempting to defuse the situation." The report doesn't infer an epidemic of chokeholding cops, but it does note that the date has led the OIG-NYPD to "assess whether NYPD is adequately teaching and reinforcing effective communication skills and de-escalation tactics to all of its officers."