A.M. Links: CDC Says More Ebola in the U.S. Possible, NSA Could've Infiltrated Telecom Companies, Kim Jung Un Seen in Public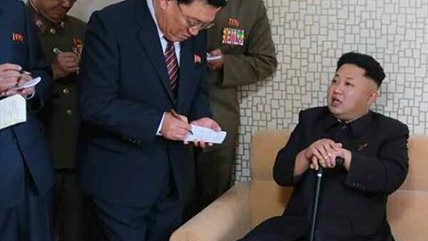 KCNA

The head of the Centers for Disease Control says other hospital workers in the U.S. could have Ebola and that the agency will "double down" on training for healthcare workers. A man in Los Angeles, meanwhile, tried to take a bus hostage by claiming to the driver he had Ebola.

Leaked Edward Snowden documents about the National Security Agency program SENTRY EAGLE suggest the agency could've placed undercover agents at communications firm at home and/or abroad.
Republican Sen. Mitch McConnell and his challenger, Democrat Alison Lundergan Grimes, appeared in their only scheduled debate this season. It's the 30-year Kentucky senator's most difficult re-election bid.
The French telecom company Iliad is no longer seeking a majority stake in T-Mobile after its offer was rejected by the German telecom company Deutsche Telekom, which still owns a majority of T-Mobile.
Police tried again to remove protester camps in Hong Kong, after hoping public pressure would force the pro-democracy demonstrators to clear the city's major streets.
After 40 days, North Korean dictator Kim Jong Un was seen in public, giving "field guidance."
Follow Reason and Reason 24/7 on Twitter, and like us on Facebook. You can also get the top stories mailed to you—sign up here.