We Are the Police, and We Are Here to Help Kill You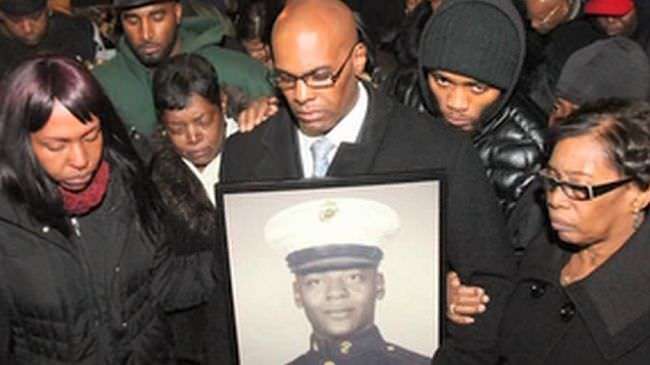 Early on the morning of November 19, Kenneth Chamberlain, a 68-year-old former Marine and retired correctional officer with a heart condition, accidentally set off his LifeAid medical alert pendant while sleeping in his White Plains, New York, apartment. Unable to contact Chamberlain via its two-way audio box, LifeAid called the White Plains Department of Public Safety. Police officers arrived to help Chamberlain 17 minutes later. Instead they ended up killing him.
When police knocked on his door, New York Daily News columnist Juan Gonzalez reports, a bleary and annoyed Chamberlain told them he was fine and did not need any help. They insisted on coming in anyway, and "a nearly hour-long standoff ensued." According to the official police report, officers "heard loud noises inside and thought someone else might be in danger." As more officers arrived with their guns drawn, Gonzalez says, Chamberlain "became increasingly agitated." Both Chamberlain's niece, who lived in another apartment upstairs, and the LifeAid dispatcher, who heard the whole confrontation via the audio box, offered to mediate but were rebuffed. Police camera footage, as described to Gonzalez by Chamberlain's son and the family's lawyers, shows that when the cops finally forced their way in, Chamberlain was "standing inside his apartment, wearing only boxer shorts, with his arms at his side and his hands empty." Yet the cops immediately tasered the man with a heart condition they had come to help, and later one officer (who so far has not been publicly identified) shot him twice in the chest—a moment the cameras missed.
Police say Chamberlain came at them with a knife. The family's lawyers say he was unarmed. White Plains Public Safety Commissioner David Chong deemed the shooting a "warranted use of deadly force." But on Friday, Gonzalez notes, "White Plains Mayor Tom Roach issued his first public statement of condolences to the dead man's family," apparently responding to critics who questioned the official account in light of the details that Chamberlain's family has brought to light. The Daily White Plains reports that "172,134 people have signed a petition urging the district attorney's office to release audio and video" of the confrontation. On Monday, more than four months after Chamberlain's death, the Westchester County District Attorney's Office confirmed that it will present the case to a grand jury.
Last week I noted another case in which police said they had to kill an "agitated" man who pulled a knife on them when they invaded his apartment.
[Thanks to Mike Miskulin for the tip.]