Did the NYPD "Execute" a Mentally Ill Man in His Home?
New evidence contradicts officers' claims that they shot Mohamed Bah because he stabbed one of them.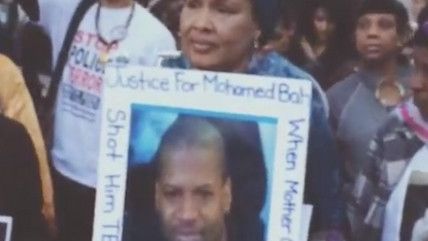 (Instagram/letsgomathias)
On September 24, 2012, Hawa Bah, concerned that her son Mohamed's erratic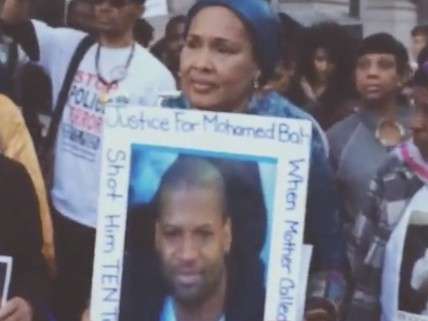 behavior (missing work and classes, acting bizarrely over the phone) was the sign of some undiagnosed mental illness, flew from her native Guinea to New York City.
The next day, she and a cousin went to Mohamed's Upper Manhattan apartment to check on his well-being. When he refused to get dressed or leave his bedroom, Hawa sought medical assistance, but failed to reach anyone at two private ambulance companies, before resorting to dialing 911.
Courtesy of the Washington Post, you can hear that 911 call below:
Through the 911 dispatchers struggled to understand Bah's accented English, she repeatedly says her son has "mental problems" and asks for a doctor. The second dispatcher says, "We are currently very busy but we'll dispatch an ambulance as soon as we can."
Instead of an ambulance, the NYPD arrived soon after. As reported by DNAInfo New York:
Hawa Bah pleaded with the cops — who relatives said had their guns drawn — to show restraint and let her calm her son down.

"I said when he hears my voice, he'll open the door," Hawa Bah said. "They said, 'Just go away. We'll check and take him to the hospital. We'll take good care of him.'"
Ignorning their own department's guidelines regarding deescalating potentially volatile situations, an Emergency Services Unit (ESU) arrived and broke down the front door to Bah's apartment.
The New York Times reported the following day:
Mr. Bah, who had put on a shirt and a pair of shorts, confronted them with the knife. When Mr. Bah did not comply with repeated orders to drop it, officers twice fired a Taser and also a rubber bullet at him, but he continued to advance, (NYPD Spokesman Paul) Browne said.

"None of those firings have any visible effect," Mr. Browne said. "At this point, it's not a matter of even keeping him from charging; he is now stabbing two E.S.U. officers in their vests, and one of them, as this guy keeps stabbing, yells, 'He's stabbing me; shoot him.' "

Three officers fired a total of 10 bullets, striking Mr. Bah in the arm, chest and abdomen as well as the left side of the head. He was pronounced dead at St. Luke's-Roosevelt Hospital, Mr. Browne said.
A grand jury declined to indict the officers, who the New York Daily News reported had been stabbed "a total of six times, but they were unharmed because of protective gear," though the injuries sustained amounted to one officer suffering what's been described as a "pinprick" or "small puncture wound."
In 2014, Hawa Bah sued the city and the three officers involved with the shooting of her son, a suit which Manhattan federal Judge Kevin Castel ruled could proceed on the grounds of alleged unlawful entry because, "Bah was not a threat, that he was alone in his apartment, and that his mother was present and would be able to help deescalate the situation."
Christopher Mathias of Huffington Post describes some of the new evidence and testimony revealed by the lawsuit:
According to police statements at the time, Bah then threw open the door and lunged at officers with a knife. But according to (Bah family lawyer Debra) Cohen, that never happened. Instead, when an officer fired a stun gun to subdue Bah, it missed and hit another officer, causing the hit officer to fall over and knocking down another, Cohen said Tuesday.

One officer then possibly mistook the sensation of being tasered for being stabbed and screamed out, "I'm being stabbed! Shoot him!"

Three officers then fired 10 shots, striking Bah seven times. He took three bullets in his stomach and lower chest and three in his upper left arm and shoulder. The seventh and final shot, which hit Bah in the side of the head, was fired from close range in a downward trajectory, the autopsy showed, even though Bah was over 6 feet tall.

This evidence combined with officers' testimony, Cohen said, means "the only logical explanation is that a police officer straddled Mr. Bah while he was still alive and breathing on the ground, bent over and shot him in the head to finish the job—while he was a threat to no one, while he had committed no crime."
Additionally, Wesley Lowery of the Washington Post writes, "Other documents revealed that the knife was never tested for fingerprints and probably never will be: The knife was 'contaminated,' police said, when an evidence warehouse was flooded during Hurricane Sandy."
At a rally last month, Cohen said the new evidence and testimony proves that the initial NYPD assessment of the shooting in 2012 was based on "pure and simple lies" of "an execution and a cover-up."
Whether those allegations are true and regardless of the lawsuit's outcome, the fact that the case is moving forward at all based on possible unlawful entry is significant because it correctly puts the onus on the officers to at least attempt to deescalate the situation before knocking down the door of a private residence, thereby creating a potentially violent confrontation with an unstable person who had not threatened anyone.