Watch: Suburban NY Cop Points Gun at Kneeling Teens After Snowball Fight
The teens were frisked, no weapons were found.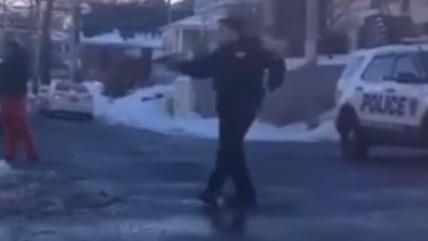 As reported by Talk of the Sound, a New Rochelle (NY) police officer held two teens, kneeling with their hands raised over their heads, at gunpoint after responding to a report of a snowball fight. Though the date of the incident is not clear, Talk of the Sound's sources say it was last Wednesday, January 28.
As seen in a video posted to social media, the officer approaches the teens with his gun drawn shouting "don't fucking move." An off-screen witness, presumably holding the camera recording the incident can be heard saying, "this group of guys was having a snowball fight and now the cop has a gun on them."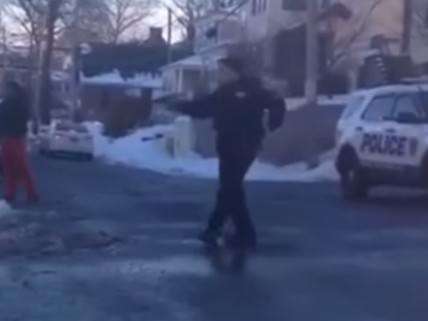 Talk of the Sound writes:
The officer is holding his firearm with both hands, pointed directly at one of the youths. He then approaches the young man, briefly frisks him with one hand while holding onto his firearm.

The second video clip shows police telling the youths to get up and move along. If there was a gun on the scene it is not apparent from the video.

…

We know his name of the police officer but are withholding it at this time. We will say that he is a Superior Officer (i.e., Sergeant, Lieutenant, Captain) and not an inexperienced officer as some have speculated.
Reason readers are likely familiar with the 2009 Reason TV video showing a Washington, DC police officer waving his gun at a snowball-fighting crowd.
Watch below: