This is What $100 Gets You: Reason Webathon 2013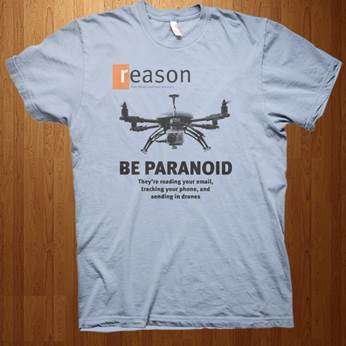 As noted earlier, today is the first day of Reason's annual webathon. Over the next week, we're looking to raise $100,000 in tax-deductible contributions so Reason magazine, Reason.com, and Reason TV can keep bringing you award-winning, cutting-edge libertarian journalism and commentary.
For a $100 donation, you'll get a free print or digital subscription to Reason, the nation's (and planet's!) only magazine of "Free Minds and Free Markets." You'll also get your choice of a classic black Reason T-shirt or this nifty "Be Paranoid" number to the right.
For a full list of swag associated with various giving levels, go here how.
Reason is published by a nonprofit and your tax-deductible donations help us keep the lights on, pay the bills, and, most important, acting as your voice in public debates over politics, culture, and ideas.
As Sen. Rand Paul (R-Ky.) put it in a Twitter chat with Reason earlier this year
I'd say the prospects for a more libertarian future are better than they've ever been and @reason can take some of the credit. What's worse, is that government had to get so large and out of control for people to begin to react.
So give what you can and we'll keep pushing forward into the future while taking swings at everything that is rotten in the world.