Bankrupt Detroit to Get New, Tax-Financed Hockey Arena: Insane Clown Posse Now Only Second-Biggest Area Joke.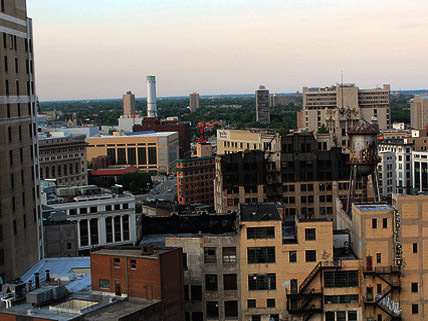 Detroit may be bankrupt but it is rich in subsidies. Via ESPN:
A state board on Wednesday unanimously gave the go-ahead for a new Red Wings hockey arena in downtown Detroit to be paid for in part with $284 million in tax dollars even as the broke city works through bankruptcy proceedings.

Michigan Gov. Rick Snyder and others defended against criticism that the $650 million project should be financed entirely with private money because the city currently can't provide basic services and retirees are facing cuts in their pensions. The 18,000-seat arena is designed to be a catalyst for more development and to link downtown and midtown, turning a blighted area into a business, residential and entertainment district.

"This is part of investing in Detroit's future," said Snyder, a Republican who blessed a state-appointed emergency manager's request to take the city into bankruptcy last week. "That's the message we need to get across. … As we stabilize the city government's finances, as we address those issues and improve services, Detroit moves from a place where people might have had a negative impression—although there are great things already going on—to being a place that will be recognized across the world as a place of great value and a place to invest."
You know what? It's not investing in Detroit's future, it's simply extending its failed past legacy of pursuing negative-bang-for-the-buck big-ticket projects at the cost of actually keeping the city functioning.
All the Stanley Cups and all the baseball and football stadiums and "people movers" and fancy theaters paid for via tax dollars aren't going to save a city that's shed 1.3 million people since a peak population of almost 2 million in 1950.
If you want to be a mensch, use the $284 million in public dough to buy one-way bus tickets out of town for all who want to leave. And if you want to see Detroit thrive, never speak of publicly funded edifice-complex projects ever again until every kid is attending a school of choice, every pothole is filled, and just about everything else is outsourced.
HT: Prateik Dalmia.
Watch "Detroit's Tragedy and How to Fix It."