Oregon, California, and Maine Could be Marijuana Legalization Battlegrounds in 2016 (and Maybe Even 2014)
What would happen if Oregon legalization advocates had the financial and policy support that went into Colorado and Washington?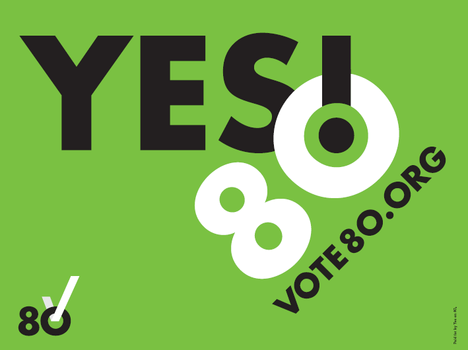 Oregon came relatively close to legalizing marijuana in 2012. Measure 80, which would have allowed licensed commercial sales and unlicensed personal cultivation, had very little financial backing and no support from major legalization groups, yet nevertheless garnered 46.5 percent of the vote.
What would happen if Oregon legalization advocates had the financial and policy support that went into Colorado and Washington? According to the Marijuana Policy Project's Steve Fox, we may find out in 2016:
The successful effort to legalize marijuana in Colorado was built on solid grassroots political organizing and an effective public relations campaign that equated pot with booze, according to the architect of Colorado's marijuana legalization amendment.

Those strategies took years to develop said Steve Fox, government relations director for the influential Washington, D.C.-based Marijuana Policy Project, which helped draft Colorado's constitutional amendment legalizing marijuana. Fox spoke Sunday at a town hall gathering of marijuana activists at the Matt Dishman Community Center in Northeast Portland.

Oregon is on a short list of states, which includes California and Maine, seen as prime candidates for legalizing pot in 2016, he said.

[….]

Timing of an Oregon initiative is key, Fox said.

Getting a legalization measure on the 2016 ballot – a presidential election year –would translate into greater voter support than if activists tried in 2014.

"What we have seen since 2000 is that if you do a ballot initiative related to marijuana on a presidential election year ballot as opposed to a mid-term election, the difference is stark," he said.
Based on conversations I've had with them, the Drug Policy Alliance is helping lay the groundwork in Oregon, for either a 2014 or 2016 initiative. Writing at The Weed Blog, Oregon resident Johnny Green argues that the push for tax-and-regulate should come in 2014:
Almost 47% of 2012 Oregon voters voted for UNLIMITED cultivation and possession of marijuana. Almost 47% of Oregon voted for UNLIMITED cultivation and possession of marijuana despite the fact that the campaign was run with virtually no money, and didn't get any financial assistance from national organizations or large donors (well, except Willie Nelson!). Name one other state that you could ask the voters straight up or down 'do you want marijuana to be legal with no constraints' and have 47% of the voters say yes, despite the fact that there was virtually no public awareness campaign behind the question? Looking at how heavily regulated Washington and Colorado's models are, I doubt even they could get as much support for such a loose system.

If organizations and large donors are going to back campaigns in 2014 in other states, but won't do it in Oregon, that just simply doesn't make sense to me. If it was an all or nothing thing, and organizations and donors weren't backing anythingin any state in 2014, I would understand. But to choose other states over Oregon based off of polling seems ridiculous to me. If marijuana reform had never, ever had a victory in a non-presidential election year, then I would maybe feel different. But marijuana reform has had at least one major victory in a non-presidential year that I can think of…um, Oregon 1998 anyone?

What a lot of out-of-staters don't take into account is that Oregon holds it's Governor's race in non-presidential election years. So while voter turnout isn't quite as large as it is during presidential years, it's still significant. And when one considers the demographics of Oregon politics, things seem even less stark. Oregon votes mostly Democrat. And we know that Democrats are much more likely to vote for legalization than Republicans (although that divide is narrowing!). Oregon is so Democrat that we haven't elected a Republican in a statewide race in over a decade. In fact, races such as Attorney General and Treasurer often don't even have a Republican candidate on the ballot. After a race in 2010 that saw the Governor decided by a razor thin margin, things are going to be heated in 2014. National Democrat organizations are going to be pouring in efforts and money to bring out as many voters in Oregon as possible. This will have an effect on any marijuana reform measure as well.