Colorado and Washington Have Legalized Marijuana. What Now?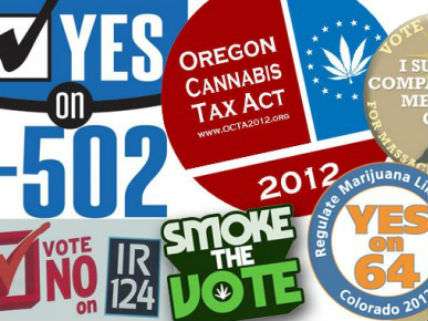 As Mike Riggs noted earlier tonight, voters have approved marijuana legalization measures in Colorado and Washington—an unprecedented change that could help lead our country away from the unjust, cruel, and disastrous policy of using force to impose politicians' pharmacological tastes on the populace. The latest numbers show Colorado's Amendment 64 winning 53 percent of the vote, while an even larger majority, 56 percent, favored Washington's Initiative 502. What happens now?
The elimination of penalties for possessing up to an ounce of marijuana (if you are 21 or older) takes effect right away in both states (once the governor proclaims/certifies the results, within 30 days of the election). But the provisions allowing commercial production and sale of cannabis for recreational use require regulations that will be written during the next year. The Washington Liquor Control Board has until December 1, 2013, to adopt regulations for marijuana growers, wholesalers, processors, and retailers. The deadline in Colorado, where cannabis businesses will be overseen by the state Department of Revenue, is July 1, 2013. Colorado's law, unlike Washington's, also allows home cultivation of up to six plants and nonprofit transfers of up to an ounce, so Colorado pot smokers will have an immediate state-legal source of marijuana.
How will the federal government react? Allow me to regurgitate some of what I said last week:
Marijuana will still be prohibited under federal law. But contrary to an argument made by opponents of Proposition 19, the California legalization initiative that lost by five percentage points in 2010, that does not mean the Supremacy Clause makes these measures unconstitutional. As Jonathan Caulkins and three other drug policy scholars note in their new book Marijuana Legalization: What Everyone Needs to Know, "The Constitution does not allow the federal government either to order state governments to create any particular criminal law or to require state and local police to enforce federal criminal laws."

Even under national alcohol prohibition, which unlike the federal ban on marijuana was authorized by a constitutional amendment, states were free to go their own way. They could decline to pass their own versions of the Volstead Act (as Maryland did), repeal them (as a dozen states, including Colorado and Washington, did while the 18th Amendment was still in force), or simply refrain from prosecuting people under them (which was common in the wetter districts of the country). "The question is not whether a state could change its own laws," Caulkins et al. write. "Rather, the question is how the conflict with the continued federal prohibition would play out."

While the feds certainly can make trouble for any state that dares to legalize pot, there is a practical limit to what they can accomplish on their own. According to the FBI, there were about 750,000 marijuana arrests nationwide last year, the vast majority for possession. State and local police departments were responsible for something like 99 percent of those arrests. It simply is not feasible for the Drug Enforcement Administration (DEA)—which has about 5,500 special agents nationwide, compared to about 765,000 sworn personnel employed by state and local law enforcement agencies—to bust a significant percentage of people who grow pot for themselves and their friends (as Colorado's initiative allows), let alone people who possess it for recreational use.

The DEA can raid state-legal pot shops, as it has done with medical marijuana dispensaries, but the number of potential targets will be considerably larger once the market officially expands to include recreational users. The Justice Department can use asset forfeiture as an intimidation tactic against landlords and threaten banks that accept deposits from pot businesses with money laundering charges. The Internal Revenue Service can make life difficult for pot sellers by disallowing their business expenses (but not, thanks to a tax law wrinkle, their "cost of goods sold," which includes the cost of buying marijuana). The feds could even threaten state regulators with prosecution for handling marijuana or facilitating the trade, although that seems less likely, since it would provoke a direct confrontation with state officials. (Washington's initiative seeks to minimize this risk by assigning the task of testing marijuana for regulatory purposes to private, state-approved laboratories.) The one thing federal drug warriors cannot do, judging from their track record even when they have the full cooperation of state and local law enforcement agencies, is suppress the business entirely.
During the next few years the feds will confront the practical limits on their powers, even as they continue to defy the constititional limits (with help from the Supreme Court). The experiments on which Colorado and Washington are embarking will be instructive for the entire country, not just in terms of drug policy, where new approaches are sorely needed, but also in terms of defining the boundary between state and federal power. No one would ever mistake Barack Obama, who broke his promise to respect state laws allowing the medical use of marijuana, for a federalist. But during his second term circumstances may compel him to step back and let a few states try a little tolerance for a change.