The European Union Announces New Sanctions Against Belarus and Iran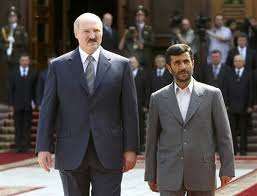 The EU announced more sanctions today against Belarus and Iran. Understandably, neither has been received very well by the Iranian or Belarusian governments and will do little to achieve the goals of the recent Nobel laureate. In fact, the sanctions will ultimately continue to hurt those EU policy makers say they want to help.
Sanctions against the Belarusian government have done little in the past to motivate any expansion of civil rights in the ex-Soviet country, and there is no reason to think the recently renewed sanctions yield any different outcomes. The Belarusian government responded as you might expect:
We consider such a policy by the EU to be incompatible with good neighborly relations… Ironing out the existing differences is only possible if both sides are willing to meet each other halfway.
The unelected High Representative of the Union for Foreign Affairs and Security Policy, Baroness Ashton, weighed in:
We will continue to put pressure on Belarus, demanding a release and rehabilitation of all political prisoners in the country and providing support for representatives of civic society.
Quite how restricting the movement of Belarusian officials and Belarusian companies would make Lukashenko more likely to relax the style of his dictatorial rule is anyone's guess.
The same Baroness Ashton has similar hopes for Iran, saying that she hoped the imposition of trade restrictions on Iran would make the Iranian government more likely to begin negotiations relating to their nuclear program. The American government approved of the new sanctions.
From The Chicago Tribune:
EU foreign policy chief Catherine Ashton said she hoped that turning up the heat on the Islamic Republic would persuade it to make concessions and that negotiations could resume "very soon".

"I absolutely do think there is room for negotiations," said Ashton, who represents the United States, China, Russia, Britain, France and Germany in their on-and-off talks with Iran. "I hope we will be able to make progress very soon."
One hopes that Baroness Ashton and others at the European Union have a memory longer than a matter of weeks. Only weeks ago the consequences of sanctions against Iran were seen after Iran faced a currency crisis caused largely in part by Western sanctions. The crash of the rial only hurt the people that the sanctions were trying to help and was unlikely to have fostered any pro-Western sentiments.
Sanctions against Belarus and Iran have not persuaded Belarus to embrace civil liberties or Iran to negotiate its nuclear program. It might be worth those who work for the Nobel Peace Prize laureate to consider a different approach.