Colorado Becomes Second State to Allow E-Hailing App Services Like Uber and Lyft Statewide; First One to do So Legislatively
After noting yesterday that Virginia continues to try to bar services that summon hired rides via smartphone app, such as Uber and Lyft, Colorado today sensibly becomes the second state to create a statewide regulatory category for "e-hailing" app services , one that doesn't seem designed to drive the services out of business.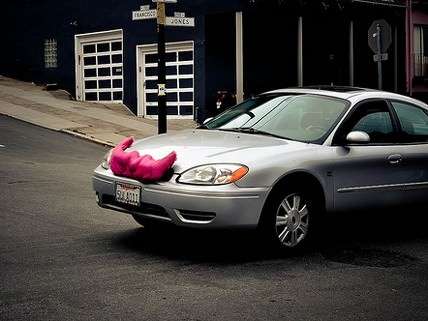 It's the first state to do so through the legislature, as California's regulations (which I wrote about back in October) came via its Public Utilities Commission. Like California, the regs create a new category neither limo nor taxi, called "Transportation Network Company."
From the Colorado Springs Gazette:
Gov. John Hickenlooper signed the bill on Thursday.

"Consumer protection is a worthy goal that we endorse, but rules designed to protect consumers should not burden businesses with unnecessary red tape or stifle competition by creating barriers to entry," Hickenlooper said in a statement released with the signing.

The entry into the transportation marketplace by the ridesharing companies has left officials nationwide struggling to catch up with emerging technology that competes with traditional taxis and limos, but with less overhead.

A handful of state legislatures this year have tried and failed to pass bills to provide oversight for ridesharing companies. Taxi and limo companies have objected, arguing the Web-based businesses have an unfair advantage and light regulation. Several municipalities nationwide are also grappling with the issue.
Uber itself is very pleased, as per this note on its website:
SB125 codifies our responsibility to the riding public and drivers by creating a new vehicle class called "Transportation Network Companies." It requires that:

Every driver pass a rigorous background check that includes driving records and felony offenses, including county, federal and multi-state checks;
Every vehicle on the road has been inspected for safety and quality with a 19-point inspection by a certified mechanic;
Every trip is insured up to $1 million from the moment a driver accepts a ride request.

This new law ensures that other rideshare providers meet these same stringent requirements so that all options in Colorado are safe for everyone….

While many thanks are due to the policy-makers and supporters who made this bill possible, it's really the drivers who provide safe, reliable and high-quality transportation — drivers like Ali Vazir who captures this sentiment best in his Op-Ed in the Denver Post:

"With a $672 weekly cab lease, I paid over more than $34,000 a year to lease a Metro Taxi. First I had to make enough money to pay off my cab lease, then work many more hours to generate income. There were weeks and months I made well below minimum wage. With uberX, I can have a living wage, more family time, and drive fewer hours. I call it emancipation."
The bill itself. Many pages of it involve insurance requirements, long one of the sticky issues with this sort of service, requiring that drivers or the company have insurance coverage for anytime the driver is either carrying a passenger or logged into the apps network.
Reason's archives on the bloody municipality by municipality fight such services have been engaged in for a long time.
Hat tip: Commenter "Monkey's Uncle"