Google, Yahoo Have More Respect for the Fourth Amendment Than the Feds
Have a policy not to divulge e-mail contents without a warrant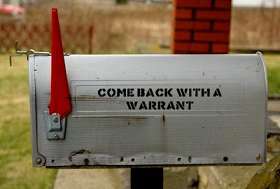 Maybe we should start rethinking those cyberpunk dystopian futures where evil megacorporations (Warning! TV Tropes link) control the government and violate our freedoms with their filthy corrupt cronyism?
Yahoo and Google – two online media and email monoliths – have told Wired that they require probable-cause court-issued warrants to reveal the contents of their customers' messages to a greater extent than federal law currently mandates:
Yahoo demands probable-cause, court-issued warrants to divulge the content of messages inside its popular consumer e-mail brands — Yahoo and Ymail, the web giant said Friday.

The Sunnyvale, California-based internet concern's exclusive comments came two days after Google revealed to Wired that it demands probable-cause warrants to turn over consumer content stored in its popular Gmail and cloud-storage Google Drive services — despite the Electronic Communications Privacy Act not always requiring warrants.

"Yes, we require a probable cause warrant for e-mail content," said Yahoo spokeswoman Lauren Armstrong, in an e-mail interview. "That is more than ECPA requires."

The nation's other major consumer-facing e-mail provider — Microsoft — which markets the Hotmail and Outlook brands, declined comment for this story.
David Kravets notes that the companies aren't getting any guff from law enforcement officials over denials and figures they don't want to push the matter into the courts and risk a ruling that could prove most unpleasant to their investigation methods.
Read more about what information Google and Yahoo will provide without a warrant in Kravets' story.