Greece Reaches Bailout Deal With International Lenders, Many Unpopular Strings Attached
The Greek government has reached a deal on the next bailout installment with international lenders. The deal means that Greece can work towards receiving the next round of bailout funds, assuming that the Greek parliament approves the deal next week.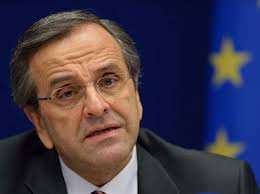 Prime Minister Antonis Samaras welcomed the news, saying:
If this deal is approved and the budget is voted, Greece will stay in the euro and exit the crisis.
The deal will impose 13.5 billion euros worth of cuts as well as labor reforms, which will be strongly opposed by some in the Greek parliament. Although Alexis Tsipras, leader of the left-wing party Syriza, has said that austerity measures would deal a "final blow" to the Greek economy, he will not try force an election. Samaras and his colleagues should consider themselves lucky that Tsipras is not going to pursue another election, recent polling from less than two weeks ago suggests that Syriza would take more votes than Samaras' New Democracy were an election called.
The reforms that international lenders are requiring in order for Greece to access bailout funds include previously promised reforms that have yet to be implemented, such as the closing of some state organizations.
Given that almost nine in ten Greeks are dissatisfied with their government it is likely that there will be more strikes and protests if the deal is approved.
The approved deal will have diverse opposition. Left-leaning Syriza opposes the austerity the deal would impose for obvious reasons.
Other opponents of the bailouts, such as the ultra-nationalist Golden Dawn, have different objections. To members of Golden Dawn the bailouts and the conditional austerity are an insult to Greek sovereignty and pride. Leader of Golden Dawn Nikolaos Michaloliakos expressed his thoughts on foreign terms being imposed on his country by foreign institutions back in May:
The resistance of Golden Dawn against the bailout dictators will continue. Inside and outside the Greek parliament. We will continue the battle for Greece. Free from the international speculators. For a proud and independent Greece. For Greece without the bailout slavery and the loss of our national sovereignty,
The Greek parliament may soon approve a deal that will be very unpopular. Unfortunately for opponents of austerity who want to keep Greece in the eurozone there are few other realistic alternatives.