Pentagon Stops Helping Militarize Police for Now, Demands Papers, Please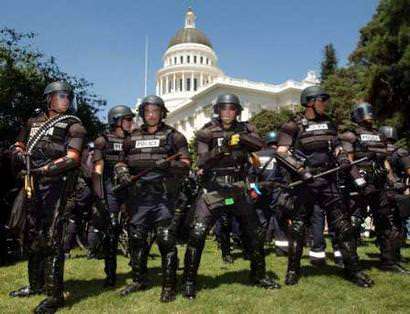 Let's see how law enforcement agencies feel when they're the targets of a sweep instead of the source of them. The Associated Press reports the Defense Department is temporarily halting its program of giving surplus guns, helicopters, humvees and other military equipment to police agencies until they can adequately account for what they've already gotten in the $2.6 billion program:
The department's Defense Logistics Agency ordered state-appointed coordinators in 49 states to certify the whereabouts of that equipment that has already been distributed through the long-running arrangement overseen by the agency's Law Enforcement Support Office. The temporary halt on transferring weapons applies to all states, agency officials said Thursday. …

The military decided to conduct a "one-time, clean sweep" of all state inventories instead of reviewing them piecemeal, said Kenneth MacNevin, a spokesman for the federal agency. While some gear, including guns, has been stolen or otherwise gone missing over the years, MacNevin said the reporting requirements themselves aren't new and that the review wasn't prompted by anything specific.
Yeah, there's no real specific reason they've decided to do a big sweep right now:
The Arizona Republic reported last month that the Pinal County Sheriff's Office has stockpiled millions of dollars' worth of equipment through the program, distributing some of the gear to non-police agencies, and intended to sell other property, which would violate the program's rules.
Oh, that. MacNevin did admit that a couple of news reports, as well as a series of public records requests by the Associated Press, did contribute to the decision to make law enforcement agencies inventory their wares. And it might not be easy:
Most of the state surplus program coordinators who have responded to records requests from the AP say they only keep paper records, and the few states that keep electronic records only recently made the switch from paper.

The Illinois Department of Central Management Services, for instance, said it would take its staff members at least 500 hours merely to review the records requested by the AP.
In May, the military warned Florida that it had not adequately accounted for its inventory of hand-me-downs and warned that the program would be suspended in that state later in June if they didn't fix the problem.
More from Reason on police militarization.