China: Powerful yes, but still oh-so-" vulnerable to the effect of multifarious information flowing in," a.k.a. "information imperialism"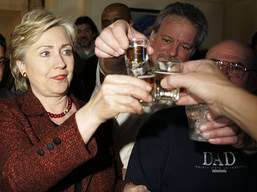 Let's put aside her husband's attempt to control and censor the Internets back in the day via the odious Communcations Decency Act, thankfully mostly struck down by a "reactionary" Supreme Court. Secretary of State Hillary Clinton's speech yesterday about freedom on that damn glorious system of tubes was right on for the most part. A snippet:
This issue isn't just about information freedom; it is about what kind of world we want and what kind of world we will inhabit. It's about whether we live on a planet with one internet, one global community, and a common body of knowledge that benefits and unites us all, or a fragmented planet in which access to information and opportunity is dependent on where you live and the whims of censors.
Of course, information will always be asymmetrical for reasons that are impossible to correct (this is not a bad thing per se). But the whims of censors, who are by definition state actors, can and should be thwarted.
The idea of non-censorship so bothered the Chinese government (the same good fellas what has blocked the Twitter, the Facebook, and the YouTube and is fiddling with the Google so much so that it may pull out of the place) that Beijing had this to say via a state-run newspaper:
Clinton's speech was also denounced by an official newspaper Friday as part of a U.S. campaign to impose its values and denigrate other cultures, labeling it "information imperialism."

China must defend itself from information from the West that comes "loaded with aggressive rhetoric against those countries that do not follow their lead," said the English-language Global Times, published by the Communist Party's official People's Daily as part of a government-sponsored campaign to develop international media and influence opinion about China overseas."

Unlike advanced Western countries, Chinese society is still vulnerable to the effect of multifarious information flowing in, especially when it is for creating disorder," the newspaper said. It offered no examples.
More here, via USA Today via the Cincy Enquirer.