Eighteen Months per Shoe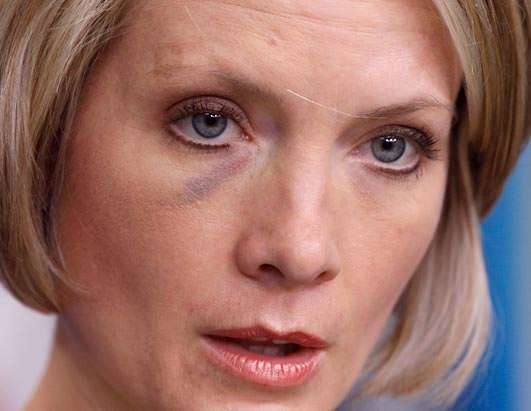 Last week Iraqi journalist Mutander al-Zaidi got three years for throwing his shoes at then-President Bush during the latter's December visit to Baghdad. That seems excessive. To be sure, hurling shoes at someone is a form of assault, but (except in the case of a well-aimed stiletto heel) it is quite unlikely to be deadly, and in this case neither the target nor anyone else was injured by the flying footwear. White House Press Secretary Dana Perino did get a shiner from an errant microphone during the ensuing melee. Meanwhile, according to another reporter at the press conference, Iraqi security personnel beat and kicked Al-Zaidi until "he was crying like a woman." If that was not adequate retribution, surely a few months in jail would have done the trick.
Al-Zaidi initially was charged with assault of a foreign head of state, an offense that carries a sentence of up to 15 years. Last week prosecutors changed the charge to assault of an official during the execution of his duties, which carries a maximum penalty of three years. It seems clear that Al-Zaidi is being punished mainly for the views he expressed and for the embarrassment they caused both Bush and his Iraqi hosts. "This is a gift from the Iraqis; this is the farewell kiss, you dog!" he said before throwing the first shoe. Upon throwing the second one, he declared, "This is from the widows, the orphans and those who were killed in Iraq!" If Al-Zaidi had thrown roses at Bush and expressed his gratitude for the U.S. invasion, he would not be going to prison, even if the president had been cut by a thorn. The shoe throwing was a political gesture that incidentally involved hurling objects, as opposed to an act of violence with a political motivation. As Bush himself remarked at the time, "That's what people do in a free society, draw attention to themselves." Here's something else that happens in a free society: People are punished for actions that violate the rights of others, not for expressing opinions that make people in power uncomfortable.
Meanwhile, in another Middle Eastern country that the U.S. is trying to transform into a liberal democracy, the Supreme Court of Afghanistan has affirmed the 20-year sentence that another journalist, Parwiz Kambakhsh, received for committing blasphemy by downloading and distributing an essay about the treatment of Muslim women. The good news: He was originally sentenced to death. 
Previous Reason coverage of the shoes that shook the world here and here. I noted the Kambakhsh case last year.
Addendum: Several commenters seem to be under the impression that I think Al-Zaidi should not have been punished at all, even though I said he was guilty of assault and called his sentence "excessive" (as opposed to completely inappropriate). To be clear, I am not saying that what he did ought to be protected as free speech; I'm saying that his punishment was disproportionate given the nature of the assault and that it seems to have been enhanced based not on the crime itself but on the ideas he expressed while committing it.