The New York Times: Instead of Vaccine Booster Shots, Why Not Just Wear Masks Forever?
Talk about encouraging vaccine hesitancy.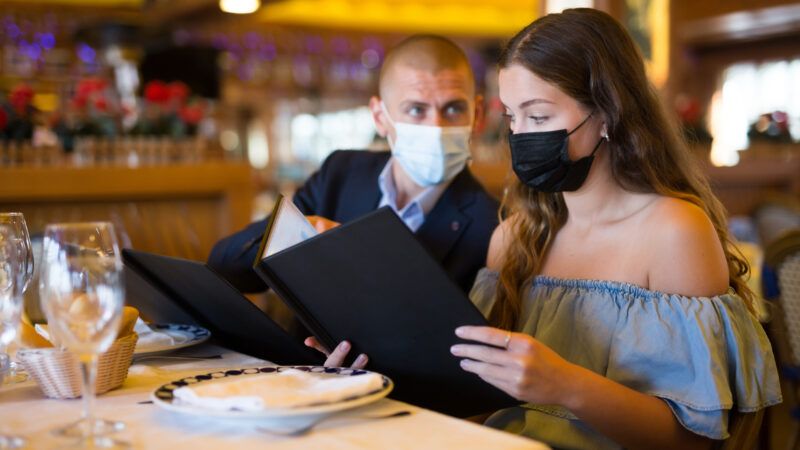 ( Iakov Filimonov | Dreamstime.com)
Officials at the Centers for Disease Control and Prevention (CDC) now think that many Americans will need booster shots in the coming months, and the Biden Administration has plans to make that happen. While the vaccines still provide remarkable protection against severe disease and death, recent studies suggest that an additional shot will help decrease transmission of the more infectious delta variant and prevent breakthrough cases.
For vaccine-hesitant rightwing people—who constitute a substantial proportion of the anti-vax movement, though by no means the whole thing—the need for booster shots has been met with considerable opprobrium and even suggestions that this means the vaccines don't work. Former President Trump called booster shots a "crazy" idea.
"The whole thing is just crazy," he said in a recent interview on Fox News. "It doesn't—you wouldn't think you would need a booster."
These comments will undoubtedly contribute to vaccine hesitancy and undermine confidence in booster shots; as such, this sort of talk is deeply irresponsible. It's as if the former president doesn't know any better, or just can't help himself.
So what's The New York Times' excuse?
Astonishingly, the paper of record has opted to give support to this Trumpian denial of vaccine efficacy. A recent news story by Times reporter Apoorva Mandavilli—whose articles on the pandemic have constituted some of the most fear-driven and pro-restriction writing appearing anywhere in the mainstream media—cast doubt on the need for boosters and suggested that people could "easily" obtain the same level of protection by wearing a mask instead.
Mandavilli quotes Boston University epidemiologist Ellie Murray in opposition to booster shots for the general population:
Dr. Murray said boosters would undoubtedly boost immunity in an individual, but the benefit may be minimal — and obtained just as easily by wearing a mask, or avoiding indoor dining and crowded bars.

The administration's emphasis on vaccines has undermined the importance of building other precautions into people's lives in ways that are comfortable and sustainable, and on building capacity for testing, she and other experts said.

"This is part of why I think the administration's focus on vaccines is so damaging to morale," she added. "We probably won't be going back to normal anytime soon."
Note the agenda here: The "experts"—i.e., overly cautious epidemiologists picked by The New York Times to give weight to Team Blue's quixotic COVID-19 mitigation preferences—think the focus on vaccines is damaging because it comes at the expense of a pro-lockdown, pro-masking, pro-social-distancing strategy. Vaccination, broadly speaking, lets most people live their lives like normal again; this is somehow viewed as a bad thing.
These policy preferences are completely contrary to the reality of the human social experience. The health benefit of a booster shot is not "obtained just as easily by wearing a mask or avoiding indoor dining or crowded bars," because wearing masks and eschewing conversation with other people is much more taxing than getting a shot. Many normal people actually like talking to people in bars and seeing human faces, so forgoing this indefinitely is not a trivial matter. (Note that the Times recently ran an op-ed piece titled: "Actually, Wearing a Mask Can Help Your Children Learn.")
If Trump deserves criticism for failing to urge his base to get their shots—and he does—then why should The New York Times get a pass for suggesting to its readers that regular masking is an effective substitute for booster shots? The Biden Administration frets constantly about COVID-19 misinformation being spread by right-wing accounts on social media. But Mandavilli is guilty of the same: She called the delta variant "as contagious as chicken pox" in an article that preached doom and gloom about the current state of the pandemic. It later turned out that this claim, sourced to an internal CDC document, originally appeared in an inaccurate NYT infographic.
I wrote previously that the media's enthusiasm for mask mandates is so strong that it occasionally seems as if some liberal and mainstream writers prefer masks to vaccines, even though the latter is a vastly superior tool for defeating COVID-19. Now The New York Times has said it quite explicitly: Who needs booster shots when experts say we can just wear masks forever?