The SUV That's About To Change Asset Forfeiture Rules Nationwide
The future of civil asset forfeiture law in the United States now revolves around a single Land Rover.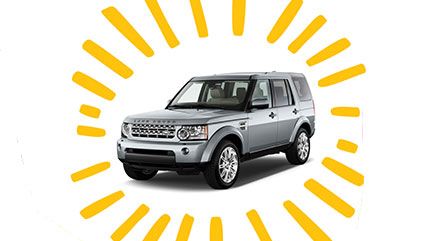 The future of civil asset forfeiture law in the United States now revolves around a single car: Indiana resident Tyson Timbs' $42,000 Land Rover. It's a nice ride. So nice, in fact, that Timbs argues his constitutional rights under the Eighth Amendment were violated when the state seized it in 2015 after Timbs was arrested for selling heroin to two undercover cops. The SUV, which Timbs did not purchase with drug money, is worth four times the maximum fine for the crime he committed, a "grossly disproportionate" penalty, a lower state court found.
The Indiana Supreme Court, however, ruled that the Eighth Amendment had yet to be applied to the states, unlike much of the rest of the Bill of Rights. So Timbs took his case to the U.S. Supreme Court, where he found a more receptive audience.
During oral arguments in November, the justices peppered Indiana Solicitor General Thomas Fisher with pointed questions and openly mocked his argument that there is effectively no seizure under asset forfeiture laws that would qualify as excessive. Justice Stephen Breyer, to the laughter of his colleagues, even goaded Fisher into claiming it would be constitutional to seize any car going five miles over the speed limit.
SCOTUS watchers highly expect that the Court will incorporate the Eighth Amendment, extending the U.S. Constitution's protections against excessive fines and fees to state laws and giving plaintiffs like Timbs a new line of attack against asset forfeiture, which has traditionally been fought on due process grounds.
At least one lawsuit has already been filed in anticipation of the forthcoming ruling. In December, Detroit resident Crystal Sisson filed a federal class-action civil rights lawsuit challenging the aggressive asset forfeiture program in Wayne County, Michigan.
Sheriff's deputies pulled over Sisson after they surveilled her entering a Detroit medical marijuana dispensary. After allegedly finding her with $10 worth of pot and discovering that she did not have a medical marijuana card, the deputies issued her a criminal citation and seized her 2015 Kia Soul.
Sisson had to pay the Wayne County Prosecutor's Office $1,200 to avoid having her car forfeited; her suit now argues that the forfeiture and the fine were excessive under the Eighth Amendment. Whether the Supreme Court will also define what constitutes an "excessive" fine remains to be seen.