Surveillance and Wars on Whistleblowers Leading to Less Press Freedom
America's score drops while Trump administration considers charges against WikiLeaks.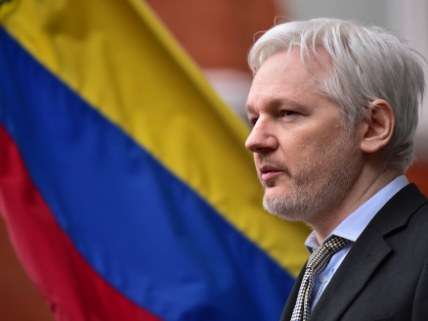 Reporters Without Borders, an organization analyzing and defending a free media worldwide, just released its 2017 rankings list and has determined that media freedom is on the decline. It has calculated that in almost two-thirds of the 180 countries in the index, press freedom has dropped over the previous year.
While America is still extremely far from the kind of country that imprisons or kills people who engage in acts of journalism the government doesn't like, it dropped two ranks from 41 to 43. Yes, the election of President Donald Trump and his open display of contempt for critical media reporting of him plays a role. But the report is very clear that Trump is far from the originator of America's decline. He is taking advantage of a framework that has been developed by previous administrations, particularly President Barack Obama's pursuit of whistleblowers:
US press freedom, enshrined in the First Amendment to the 1787 constitution, has encountered several major obstacles over the past few years, most recently with the election of President Donald Trump. He has declared the press an "enemy of the American people" in a series of verbal attacks toward journalists, while attempting to block White House access to multiple media outlets in retaliation for critical reporting. Despite the bleak outlook under Trump, it bears repeating that his predecessor left behind a flimsy legacy for press freedom and access to information. Journalists continue to be arrested for covering various protests around the country, with several currently facing criminal charges. The Obama administration waged a war on whistleblowers who leaked information about its activities, leading to the prosecution of more leakers than any previous administration combined. To this day, American journalists are still not protected by a federal "shield law" guaranteeing their right to protect their sources and other confidential work-related information. And over the past few years, there has been an increase in prolonged searches of journalists and their devices at the US border, with some foreign journalists being prevented from any travel to the US after they covered sensitive topics such as Colombia's FARC or Kurdistan.
The report notes how populist movements that favor "strongmen" type candidates and leaders use attacks on the credibility of the media to grant them "anti-system" credibility with voters in the United States and Europe. And already existing strongmen and autocratic leaders in other less free countries have brought the hammer down even harder on the press.
But more specifically for Western countries, governments have used fears of terrorism and general "national security" goals as mechanisms to expand the use of surveillance against journalists themselves as yet another way of tracking down sources or individuals trying to anonymously pass along information:
In Germany (ranked 16th in the 2017 Index), the Bundestag passed a law in October 2016 extending the mass surveillance powers of the Federal Intelligence Agency (BND) without making any exception for journalists. The grounds cited for the new law was the need to combat terrorism, harmonize legislation, and bring it into compliance with the constitution. The BND can now legally spy on all non-German and non-EU nationals, including journalists and lawyers. It turns out that this controversial and much criticized law has helped to legalize existing practices. A few months after its adoption, Germans learned that the BND had already spied on at least 50 journalists and news organizations for indefinite periods since 1999.

It was also in late 2016 that the United Kingdom (down 2 places at 40th) adopted a new law extending the surveillance powers of the British intelligence agencies. Dubbed the "Snoopers' Charter," the Investigatory Powers Act put the UK in the unenviable position of having adopted "the most extreme surveillance legislation in UK history", with a law that lacks sufficient protection mechanisms for journalists and their sources. Even more alarming, in early 2017, the Law Commission put forward a proposal for a new 'Espionage Act' that would allow the courts to imprison journalists and others for up to 14 years for obtaining leaked information.
It is not terribly surprising, but nevertheless disappointing, that "advanced" countries push forward with spying on journalists and criminalizing those who reveal potentially controversial information about what their own governments are doing so successfully by bundling their oppression with the act of fighting terrorism.
And we're seeing signs it might get even worse. Under Obama, the Department of Justice considered attempting to charge WikiLeaks and Julian Assange with crimes for their role in leaking sensitive United States information but apparently were not able to figure out a way to do so that didn't threaten the larger concept of a free press.
Under Trump, officials seem much less concerned. CIA head Mike Pompeo seems to think the government can just declare that Assange and WikiLeaks don't get the protection of the First Amendment and there are reports that the Justice Department is considering charges against him. If Assange and other people from WikiLeaks are actually charged with crimes for releasing information that was leaked to him, we'll probably see America's ranking take an even bigger hit next year.
See the full list of rankings here. Norway ranks first and North Korea, unsurprisingly, ranks last.