The Blockchain: A Supercomputer for Reality
"Everything that can be decentralized, will be decentralized."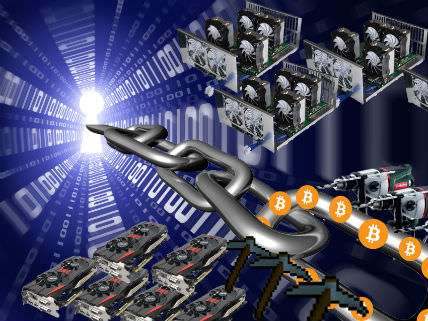 The blockchain is a decentralized public ledger of all the Bitcoin transactions that have ever been executed. But blockchain technology is much more than Bitcoin, as the technologist and entrepreneur Melanie Swan demonstrates in her new book, Blockchain: Blueprint for a New Economy.
Bitcoin participants begin by creating a digital wallet that generates their Bitcoin address and their public and private keys. A person's public key can be obtained and used by anyone to encrypt messages intended for that individual. The encrypted message can be deciphered only by using the recipient's private key. Bitcoins are exchanged for products or services when someone encrypts a message that essentially says, "I give the right to spend this money to the person who owns the private key corresponding to this address." The blockchain then publicly records this activity.
The blockchain doesn't have to be confined to tracking Bitcoin activity. Swan persuasively contends that the advent of the blockchain platform as "a universal, permanent, continuous, consensus-driven, publicly auditable, redundant, record-keeping repository" is a technological game-changer as significant as the creation of the Internet. Since it is a decentralized public ledger, the blockchain enables the trustless transfer and accurate recording of all transactions and documents.
The result is, in Swan's words, "a new paradigm for organizing activity with less friction and more efficiency." By cutting out the gigantic layers of government and corporate rules and bureaucracies devoted to tracking and authenticating identities, contracts, transfers of money, exchanges of tangible and intangible goods, and the ownership of property, blockchain technology can dramatically reduce the transaction costs of all sorts of activities.
Swan acknowledges that this technology is not yet mature, but her survey of some of the exciting new tools that are being explored and exploited by developers will give readers a good idea of its potential. "Smart property," for example, refers to physical property whose ownership is registered in the blockchain and thus controlled by whoever has the private key. In other words, property rights can be cryptographically defined and self-enforced by code. The owner can sell it simply by transferring the private key to another party.
Swan also envisions that physical properties registered on the blockchain could become "smart matter" embedded with sensors, QR codes, NFC tags, iBeacons, and the like. Access to property could be implemented using smartphones to unlock doors to houses, hotel rooms, or rental cars by affirming a user's digital identity as encoded in the blockchain.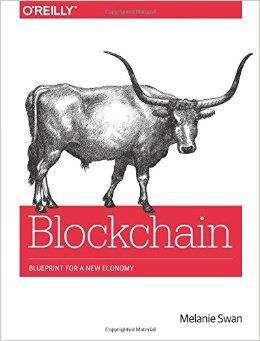 Then there are smart contracts. The startup Ripple Labs envisions contracts coded on the blockchain in which parties agree that specified transactions take place when certain inputs are received by "smart oracles." The oracles consist of code that can sign a cryptographic key pair if or when a contractual condition is met. Smart contracts require less trust between parties because they are autonomous, self-sufficient, and decentralized. (The science-fiction writer Daniel Suarez envisioned a set of smart contracts operating autonomously and taking over the world in his brilliant novel Daemon.)
The blockchain ledger and the archives registered on it must be able to be stored and communicated when needed. Storj is just one of several peer-to-peer encrypted storage network services that enables users to transfer and share data without relying on a third-party data provider. Storj works by paying community members to store encrypted files on their extra hard drive space. Storj estimates that it can drop of the cost of data storage by a factor of 10 to 100. Meanwhile, the Proof of Existence virtual notary service anonymously and securely stores an online distributed proof of existence for any document.
Swan goes on to explain the operation of decentralized applications (DAPPs), decentralized autonomous organizations (DAOs), decentralized autonomous corporations (DACs), and decentralized autonomous societies (DASs). The Bitcoin blockchain is a good example of a DAPP. The ongoing development of an open-source blockchain that aims to enable the ridesharing service LaZooz is example of a DAO. It is an entity without owners and without central servers, existing on the smart phones and computers of its community of users.
A DAC might be thought of as an automated nexus of contracts that can engage in activities such as leasing assets, hiring people, and securing debt or equity to achieve the goals set out in its mission statement. Notionally, DACs operating under a set of publically available business rules would be incorruptible and more trustworthy than human-run firms. As Dan Larimer of Invictus Innovations explained in The Economist: "Although DACs can still be designed to have a robotically inviolable intention to rob you blind, to enter the open source arena they must be honest about their plans to do so."
Blockchain technology can also empower people to make end runs around oppressive governments. As Swan notes, blockchain technology facilitates pseudonymous transactions outside the visibility, tracking, and regulatory purview of states. Anti-censorship applications are being developed. The Alexandria DAPP, for example, "preserves the integrity of the historical record. It taps into collective, on-the-ground reporting by scraping Twitter as events unfold and prevents after the fact censorship by archiving the information on a blockchain." Namecoin is an alternative domain name system registration process that cannot be controlled by any government.
And the DAS? Swan gets a bit vague here about what she means by "the idea of putting the nation-state on the blockchain," largely because blockchain technology has not yet been implemented by government agencies. Indeed, federal functionaries will hate some of the proposals that Swan mentions, due to their libertarian implications. Still, services now offered by governments that could be moved to the blockchain include "an ID system based on reputation, dispute resolution, voting, national income distribution, and registration of all manner of legal documents such as land deeds, wills, childcare contracts, marriage contracts, and corporate incorporations."
Swan evidently believes that a modern world transformed by the wide application of increasingly autonomous blockchain technologies will become ever more productive without the need for human involvement. Hence her interest in "national income distribution," in which the earnings from autonomously operating blockchain enterprises are divvied up among citizens. Blockchain government would also be a lot smaller and cheaper, since most commercial activities would be overseen, regulated, and resolved on the blockchain. Ultimately, as blockchain venture capitalist David Johnston declares, "Everything that can be decentralized, will be decentralized."
There is much more in this slender book, including speculations about how blockchain technologies could be used to monitor public health, crowdfund projects, provide community supercomputing, upload personal mindfiles, and even birth artificial intelligences. Swan acknowledges that many of the projects she outlines may well never really get off the ground. Nevertheless, she makes a strong case that we are at the dawn of a blockchain revolution.