Criminal Justice Reform Will Be 'Centerpiece' of Congressional Black Caucus Agenda in 2015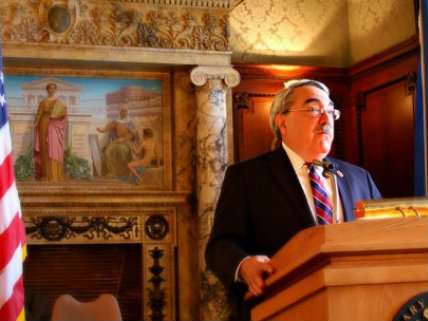 This week, North Carolina Rep. G.K. Butterfield (D) was sworn in as the new chair of the Congressional Black Caucus (CBC), welcoming with him five new members—all women, one Republican—to the 46-member caucus. In his swearing-in remarks, Butterfield pledged that criminal justice reform—including sentencing reform and addressing police brutality—will be "a centerpiece" of the group's work in 2015.
"There is a well-founded mistrust between the African American community and law enforcement officers," he continued.
The statistics are clear. Video clips are clear. We recognize that the overwhelming majority of law enforcement officers put their lives on the line every day to protect our communities. Unfortunately, there are some officers who abuse the sacred responsibility to protect and serve by using excessive, and sometimes deadly force when a less severe response is warranted. The CBC will seek legislative action to reverse this terrible trend.

Let me also be clear. To reform the "law enforcement system" will not reform the "criminal justice system". The CBC will address outdated sentencing laws, unethical prosecutors and communicate the importance of criminal defendants having competent counsel.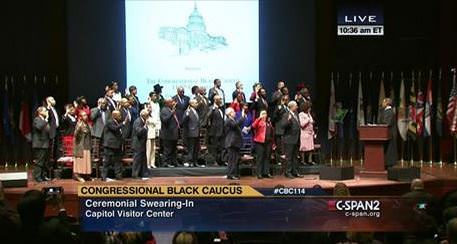 In a joint statement Tuesday morning, three members of the CBC—Reps. Elijah E. Cummings, John Conyers Jr., and Bennie G. Thompson, ranking members of the House Committees on Oversight and Government Reform, Judiciary, and Homeland Security—once again called for a series of congressional hearings into "the issues raised by the deaths of Eric Garner, Michael Brown, and others, as well as the role Congress can play in implementing broader criminal justice reform."
The representatives said Congress needs to exercise more oversight of the resources the federal government allocates to state and local law enforcement. In an initial, December 9 letter on the issue, addressed to the heads of their respective committees, the representatives requested that the three committees work together on issues such as "accountability and transparency policies relating to policing, including data collection, cameras, and civilian complain review programs", "the effects of providing military equipment, processes, and training" to police, and the grand jury process.