Colorado Cannabis: 'You Can't Take It With You.' Wanna Bet?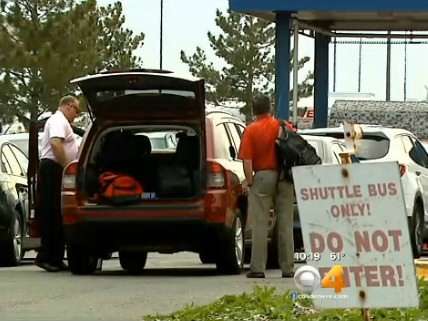 On my way back to Dallas from Denver last month, I gave a bottle of pomegranate Dixie Elixir to a couple of dudes in the hotel elevator. I had consumed just one dose out of a bottle containing seven or so, and I thought it was a shame for the rest to be wasted. At the same time, I was keen not to take the drink with me to the airport, since I figured this was just the sort of marijuana product that a TSA agent might actually notice: a container with more than three fluid ounces in it.
Not that the consequences of being caught with a small amount of cannabis at the Denver International Airport are terribly severe: The Transportation Security Administration refers such cases to DIA authorities, who at most will issue you a citation for violating the airport's pot ban. The maximum fine for a first offense is $150. In most of Colorado, there is no penalty at all for mere possession of up to an ounce, and even at the airport no one has been fined yet, according to DIA officials. Although 16 travelers have been caught with pot, the only penalty was confiscation of their souvenirs. Still, best to avoid the inconvenience and embarrassment.
Apparently that thought has crossed the minds of more than a few tourists on their way out of Denver. KCNC, the local CBS station, reports that car rental agencies commonly come across discarded marijuana left by anxious travelers. "It happens pretty often," the employee of one major rental company tells the station. "Probably like four times a day. Me, I just throw it away. I don't know about the others." At another rental company an employee says the usual practice is to throw out abandoned cannabis or turn it over to a supervisor. "We try not to let it get to the car wash bay," she says, "because those guys will take it." The supervisors, by contrast, surely dispose of every last gram properly.
Judging from the numbers supplied by DIA, travelers who ditch their weed in their rental cars could have kept it with very little risk of apprehension. Recreational sales of marijuana have been legal in Colorado since January, and about 50,000 outbound passengers travel though DIA every month. That's a total of more than 300,000 passengers so far this year. If we assume that 12 percent are cannabis consumers, as suggested by national survey data, that's 36,000 people who might have bought marijuana in Colorado. Let's say 10 percent had leftovers that they took with them to the airport, inadvertently or otherwise. That would be 3,600 travelers carrying cannabis, of whom 16—less than 0.5 percent—were caught. Those are pretty good odds, especially since the worst consequence travelers have suffered so far for failing to throw out their pot before they got to the airport was having to throw it out at the airport.
"It's illegal for you to take it across state lines," a DIA spokeswoman tells KCNC, "and since we are an airport, we're not going to facilitate the transportation of marijuana illegally. We want [passengers] to discard it peacefully and carry on with their trip. When you travel and go home, you can't take it with you." The numbers suggest otherwise.