FDA Delays Threaten Kid's Life; Parents Plead With White House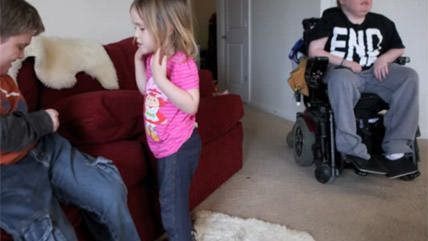 Austin Leclaire, 15, and his brother Max, 12, of Vermont, both suffer from a form of muscular dystrophy that leaves them with a life expectancy of 25 years. In 2012, Max began showing signs of improvement while participating in a clinical study with a drug called eteplirsen. Austin didn't qualify for the study, because he is wheelchair-bound. His condition has continually deteriorated: He can barely get himself out of bed or unlock a door. Making matters worse, the Food and Drug Administration (FDA) is now effectively blocking Austin's ability to access the drug by delaying its release. So, the Leclaire boys' parents are petitioning the White House.
The Boston Herald reports:
Cambridge-based Sarepta Therapeutics has been testing its [Duchenne Muscular Dystrophy] drug in 12 boys for more than two years and says the results are good, but the FDA has stalled approval until it sees results from a larger trial.

[…]

Sarepta spokesman Jim Baker said the company plans to launch a new, larger drug study later this year, with input from the FDA.

The process could take years.
But, "There is no reason in the world for this drug to not be approved. It's 100 percent safe," Jenn McNary, mother of the Leclaire boys, told the Herald. She isn't alone:
Dr. Jerry Mendell of Nationwide Children's Hospital in Columbus, Ohio, who designed the Sarepta drug trial, said eteplirsen is a first-of-its-kind therapy and has shown "superb" results so far.

"I think the product is very good, and I think it deserves to be approved. … It has absolutely no side effects," he said.
Frustrated by the bureaucratic delays, the Leclaire family teamed up with a campaign called "The Race To Say Yes." They filed a "We the People" petition at WhiteHouse.gov late in February, hoping to get at least 100,000 signatures in favor of accelerating the approval process for the drug. They met that mark this past Saturday.
Unfortunately, as the Herald notes, the White House has not yet replied.
For more Reason coverage of the FDA stifling progress in medicine, click here or watch the video below: